ME Department Welcomes New Grad Students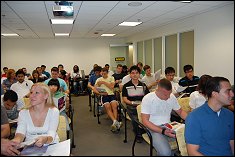 "It was very helpful-lots of good information. And I enjoyed meeting other new students."
In order to welcome incoming ME graduate students for the fall 2009 semester, the ME department held a new graduate student orientation on the morning of August 28th to complement the University's orientation held later that afternoon.
The students enjoyed an early continental breakfast as they networked and mingled with various faculty, staff and peers. Following the breakfast, Professor Avram Bar-Cohen, department chair, gave a welcome speech. Various other speakers followed, with the orientation concluding remarks delivered by Professor Balakumar Balachandran, ME graduate director and associate chair.
The graduate students that attended the event were a mixture of master's and Ph.D. candidates, bringing the total student attendance to 52. "It was a nice crowd," remarks Amarildo Damata, organizer of the event and one of the graduate studies Coordinators. "Everyone seemed to enjoy themselves," he added. The student feedback on the event was very positive, with many mentioning how beneficial the information was, as well as the interaction with other students and the faculty. One of the M.S. students, Pamela Reasor, commented, "It was very helpful-lots of good information. And I enjoyed meeting other new students."
Looking toward the future of their graduate studies, the students all have high expectations of the ME graduate program. "I expect to learn deeply in my area of research, learn the process of experimentation, and learn to write scholarly papers," says M.S. candidate Andrew Roshwalb, who will be working with Professor Amr Baz.
With the ME graduate program ranked as 20th in the nation (8th among publics) Roshwalb's--and all other students' goals can most definitely be attained.
Published September 1, 2009