ME Staff Member Receives Award for 20 Years of Service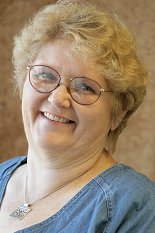 "She is truly a valuable asset to the department...."
Juanita D. Irvin, a Coordinator in the Department of Mechanical Engineering, received recognition for her 20 years of employment at the University of Maryland during the
Clark School's 2009 Staff Appreciation Event
held in May. With opening remarks given by Dean Pines, the awards were presented and then followed by a dessert reception. In commemoration of their service, Juanita and all the other honorees were gifted an etched, crystal glass from the Clark School. The award recipients also received a beautiful glass globe with their name engraved on the wooden base from the University.
On the first Monday in May 1988, Juanita began her career at the University of Maryland managing the travel office. She later served as a business services specialist in the Institute for Research and Applied Physics (IREAP) and as the finance coordinator in the Institute for Systems Research (ISR) under Peggy Brumfield, current ME Executive Director, Administrative Affairs. Approximately eight years ago when Peggy decided to switch departments, Juanita recalls, "I followed Peggy to the Department of Mechanical Engineering." She has been with the department ever since.
"Fondly known throughout the department as the 'Enforcer'," according to Dr. Avram Bar-Cohen, Department Chair and Distinguished University Professor, Juanita's official title is Coordinator for Business Services and Facilities. She reconciles over 200 FRS accounts each month as well as manages the logistics of interoffice moves and refurbishments. "She is our resident expert on all of the ever changing rules and regulations that pertain to travel and purchasing and sees to it that everyone complies," says Dr. Bar-Cohen, "She is truly a valuable asset to the Department and not allowed to leave us until we are all retired."
Looking back at the 20 years she has been with the university, Juanita says the biggest change has probably been switching from a 35 hour work week to a 40 hour work week. Other than that, waking up early has been the least favorite part of her job.
Having now worked in the department for eight out of her 20 year tenure on campus, Juanita remarks, "the camaraderie of my peers is what has kept me here." Her fondest memories from her time in ME have been the annual Thanksgiving potluck and the various picnics and parties the staff coordinate. When asked about her future career plans, Juanita jokes, "I'll be here until Peggy leaves or I win the lottery!"
--Lauren Frye, '10, ME Student Reporter
Published June 30, 2009