Mechanical Engineering Recognizes Faculty Accomplishments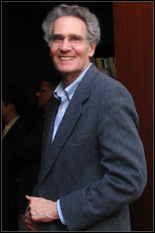 The
Department of Mechanical Engineering
hosted a Faculty Recognition Reception on Tuesday, May 15 at the Samuel Riggs IV Alumni Center
Chaney Library & Claggett Executive Patio. The event recognized faculty accomplishments from the past year and honored retiring Professor Edward B. Magrab. University President and mechanical engineer Dr. C.D. (Dan) Mote, Jr. was present to congratulate the faculty and to thank Magrab for his service to the University and the department.
Dr. Magrab joined the Department of Mechanical Engineering in 1987 as a joint appointment with MTECH (then the Engineering Research Center), where he served as the Director of the Manufacturing Program. In this dual role Magrab spearheaded the department's substantial involvement in the then nascent MIPS program, and was the principal author of a $2.3M grant from the ARPNNSF Technology Reinvestment Program for "Preparing Engineers for Manufacturing in the 21st Century." He was also instrumental in creating and leading the ClMAD(Computer Integrated Manufacturing and Design) graduate program and was an early contributor to the QUEST collaboration with the Smith School. In addition, Prof. Magrab developed ENME271 and ENME472, two of the enduring undergraduate courses in the department's curriculum. During the past 19 years, Ed's research and scholarly contributions have been in the fields of structural vibrations and computer integrated design and manufacturing.
~ The department thanks Professor Ed Magrab for his many years of dedicated service. ~
FACULTY AWARDS – Prof. Bala Balachandran
Prof. Michael Pecht, 2006 Distinguished International Service Award, University of Maryland
Prof. Ashwani Gupta, Outstanding Research Award, A. James Clark School of Engineering
Prof. Miao Yu, 2007 Faculty Early Career Development (CAREER) Award, National Science Foundation
Prof. Teng Li, 2007 ORAU Ralph E. Powe Junior Faculty Enhancement Award
Prof. Satyandra Gupta, 2006 Trailblazer Award, Science Spectrum Magazine
PROFESSIONAL SOCIETY APPOINTMENTS & AWARDS – Prof. Peter Sandborn
Prof. Shapour Azarm, Current Chair of the Design Engineering Division, ASME
Prof. Ashwani Gupta, Director of Propulsion and Energy, AIAA
Prof. Bongtae Han, Associate Editor of the Year, ASME Journal of Electronic Packaging
Prof. Reinhard Radermacher, ASHRAE Fellow
UNIVERSITY and DEPARTMENT APPOINTMENTS & PROMOTIONS – Prof. Ashwani Gupta
Appointment of Associate Professor Jaydev Desai
Appointment of Assistant Professor Santiago Solares
Appointment of Assistant Professor Teng Li
Promotion of Assistant Professor Ilias Balaras to Associate Professor
Dr. Sami Ainane, Incoming Director of Student Affairs
Prof. David Bigio, Incoming Director of Undergraduate Studies
Prof. Linda Schmidt, Outgoing DReAM Division Leader
Prof. Mohammad Modarres, Incoming DReAM Division Leader
Prof. Jaydev Desai, Incoming ASME Student Section Advisor
Prof. Jeffrey Herrmann, Outgoing ASME Student Section Advisor
Prof. Jeffrey Herrmann, Incoming Quest Associate Director
PUBLICATION AWARDS – Prof. Shapour Azarm
Prof. Peter Sandborn, "Obsolescence Driven Design Refresh Planning for Sustainment-Dominated Systems," Eugene L. Grant Award, Best
Paper Published during 2006 in the Engineering Economist
Prof. Ashwani Gupta, "Examination of Methane-Hydrogen Mixture Flame Using Isotope Shift/PLIF Spectroscopy," AIAA, IECEC Conference, San Diego, August 2006.
Prof. Satyandra Gupta, "A Computational Framework for Point Cloud Construction Using Digital Projection Patterns," ASME's Computers and Information in Engineering Conference, Philadelphia, September 2006.
Prof. Greg Jackson, "Hetero-/Homogeneous Combustion and Stability Maps in Methane-Fueled Catalytic Microreactors," 31st International Symposium on Combustion, Heidelberg, July 2006.
Prof. Teng Li, "Compliant Thin Film Patterns of Stiff Materials as Platforms for Flexible Electronics," Gordon Research Conference on Thin Film & Small Scale Behavior, Waterville, ME, August 2006 (Best Poster).
Prof. Mohammad Modarres & Prof. Ali Mosleh, "Modified Phenomena Identification and Ranking Table (PIRT) for Uncertainty Analysis," Nuclear Engineering (NED) of the ASME, (ICONE) 14 Conference, Miami, July 2006.
ADDITIONAL ACCOLADES – Prof. Avram Bar-Cohen
Prof. Jim Duncan, selected for Keystone, A. James Clark School of Engineering Academy of Distinguished Professors
Prof. Emeritus David Holloway, Outstanding Commitment Award, A. James Clark School of Engineering
Prof. Gregory Jackson (with B. Eichhorn & S. Zhou), Invention of the Year-Physical Science, Office of Technology Commercialization, University of Maryland
Dr. Jeong Kim, 2007 Maryland Business Hall of Fame Inductee
Prof. Emeritus Marvin Roush, Outstanding Commitment Award, A. James Clark School of Engineering
Prof. Katepalli Sreenivasan, elected to the National Academy of Sciences
Dr. Chandra Thamire, selected for Keystone Instructor, A. James Clark School of Engineering
Published May 16, 2007