Mechanical Engineering Students Recognized at Annual Honors and Award Ceremony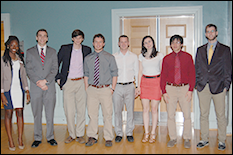 Twelve Mechanical Engineering undergraduate students were recognized for their outstanding achievements at the 2014 A. James Clark School of Engineering Honors and Award Ceremony held April 10, 2014 at the Stamp Student Union, Colonial Ballroom. Family, friends and faculty were on hand to celebrate as this year's students were awarded for their excellence in scholarship, leadership, outreach and service.
Department of Mechanical Engineering Academic Achievement Awards were presented to:
Ralph Fairbanks
Jeeven Bhathal Hugh
Andrew Sisler
This award recognizes juniors in mechanical engineering who have attained the highest overall academic average.
Department of Mechanical Engineering Chairman's Awards were presented to:
Luke Catherine
Scott Hemley
Eric Kazyak
Abisola Kusimo
Eric LaRoche
Emily Posey
Alek Williams
These awards are presented for excellence in academics, outstanding service to the department, or leadership in the department.
An Outstanding Engineering Co-op/Intern Award was presented to senior Haley Crock. She was an intern with Schlumberger at their Prudhoe Bay, Alaska, location where she worked as a well services field engineer. Haley was nominated for her remarkable productivity, initiative, and positive attitude. While most interns only complete one project in an eight-week period, Haley completed two. In addition to her fieldwork, Haley also created an award-winning video of her internship experience. This video is now being used by Schlumberger as a top recruiting tool.
Senior Abisola Kusimo was awarded both a Center for Minorities in Science and Engineering Service Award and the Kim Borsavage and Pamela J. Stone Student Award. She is a passionate advocate for women's rights and contemporary issues by way of poetry. Her passions have propelled her to visit over six different countries through study abroad and alternative breaks, lead students on South Campus as an RA, participated in Hinman CEOs, work with Women in Engineering (WIE) Research fellows for three years, undertake three minors and become a Top Ambassador for the Clark School.
Junior Sarah Andrews was awarded the Dinah Berman Memorial Award for maintaining a 4.0 grade point average and combining academic excellence with demonstrated leadership or service to the Clark School. Sarah is currently doing a co-op at GE Aviation in Cincinnati, Ohio, and she spent last spring studying abroad in Istanbul, Turkey. She is a member of the University Honors Program, the QUEST program, and the RISE Leadership Academy. She has also spent two semesters as a teaching fellow for dynamics.
Congratulations students!
Published April 11, 2014