Mechanical Engineering Welcomes Assistant Professor Katrina Groth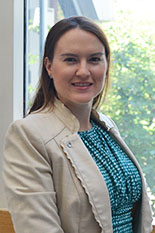 The Department of Mechanical Engineering welcomes new Assistant Professor Katrina Groth. Before becoming a faculty member at the University of Maryland (UMD), Groth was Principal Member of Technical Staff at Sandia National Laboratories in Albuquerque, NM, where she worked from 2010.
During her time at Sandia, Groth developed HyRAM, a risk assessment and consequence analysis framework for hydrogen transportation infrastructure. HyRAMk has already been implemented in the development of the first United States and international safety standards for hydrogen fueling stations. Groth also holds a patent for "Dynamic, risk informed decision support systems and methods" which leverages machine learning, reactor simulation and dynamic Probabilistic Risk Assessment (PRA) models to build real time decision support systems for diagnosis of severe nuclear accidents.
Groth's research interests include the development of methodologies to address emerging safety and security issues for energy systems and infrastructure, using state-of-the-art computational techniques and human-focused thinking.
At Maryland, Groth plans to continue investigating computational methods for risk assessment through the development of extended platforms for risk assessment of alternative fueling infrastructure, probabilistic simulation approaches to nuclear safety and human reliability, and applied artificial intelligence for risk management.
Groth is a member of the Society for Risk Analysis (SRA), American Nuclear Society (ANS), Institute of Electrical and Electronics Engineers (IEEE) Reliability Society and a founding member of the International Association for Hydrogen Energy (IAHE) Hydrogen Safety Division. In 2016, Groth won the Department of Energy's (DOE) Hydrogen and Fuel Cells Program R&D Award for "outstanding leadership and technical contribution to hydrogen safety and risk assessment."
Groth has been a Terp for many years before this hire, as she completed her undergraduate and graduate studies at UMD (B.S. '04 Nuclear Engineering, M.S. '08 Reliability Engineering, Ph.D. '09 Reliability Engineering). Her dissertation "A Data-Informed Model of Performance Shaping Factors for Use in Human Reliability Analysis" was directed by Professor Emeritus Ali Mosleh.
Published June 12, 2017