Mechanical Engineering Welcomes New Faculty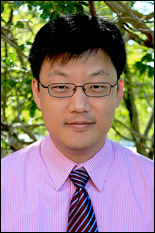 Dr. Peter Chung has joined the mechanical engineering faculty as an associate professor. Chung comes to the university from the Army Research Lab where he has worked since 2000, and most recently he was a Mechanical Engineer Team Leader (since 2003) for Interdisciplinary Computational Sciences and Engineering.
Chung received both his Ph.D. (1999) and M.S. (1996) in Mechanical Engineering from the University of Minnesota and his B.S. (1994) in Aerospace Engineering (with high honors) from the University of Virginia.
Chung has been extensively involved in the establishment of new, multi-institutional, basic research programs for the Army while also performing research with a team in computational sciences. His current interests are in understanding and improving the physical foundations of computational mechanics and computational materials. Specifically, he will be studying the effect of modeling randomness and aperiodicity in complex microstructures, the role of mechanical stresses on optical phonon transport, and the structure-property relationships of lattice defects in noncubic crystalline solids.
Dr. Jelena Srebric has joined the mechanical engineering faculty as a professor. Srebric comes to the university from the University of Pennsylvania where she has been a professor of architectural engineering since 2000 and an adjunct professor of mechanical and nuclear engineering since 2007. She has also been a visiting scientist at the Harvard School of Public Health since 2008.
Srebric received her Ph.D. (2000) in Building Technology from the Massachusetts Institute of Technology and both her M.S. (1997) and B.S. (1994) in Mechanical Engineering from the University of Belgrade.
Srebric's work focuses on enabling multi-scale modeling of built infrastructure and providing a reliable assessment of how these systems affect occupant population and energy consumption. These modeling efforts include development of computational tools as well as experimental facilities. The experimental work covers laboratory-based testing of building materials and systems as well as an extensive network of instruments for in-situ monitoring, typically coupled with occupant outcome assessments.
Published September 6, 2013