New REU site to offer research opportunities in miniature robotics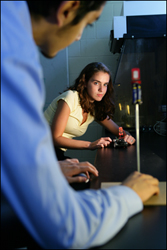 Assistant Professor
Sarah Bergbreiter
(ME/ISR) is the principal investigator for a new National Science Foundation Research Experiences for Undergraduates (REU) site,
Research Opportunities in Miniature Robotics
. Maryland Robotics Center Director
S.K. Gupta
(ME/ISR) is the co-PI.
The three-year REU program—which will begin in summer 2012—will provide undergraduate students with new and exciting summer research opportunities in the field of miniature robotics.
Miniature robots have overall sizes between 1mm and 100mm. They have the potential to significantly enable or enhance capabilities in manufacturing, medicine, reconnaissance, exploration, food safety, and search and rescue. Because of their size, miniature robotics offer a truly interdisciplinary systems research challenge that encompasses materials, mechanical design, control, sensors and actuators, power, and electronics.
To learn more about miniature robots at Maryland, visit the Maryland Robotics Center and Dr. Bergbreiter's Micro Robotics Lab.
Published June 15, 2011