NSF Boosts Nanotech Curriculum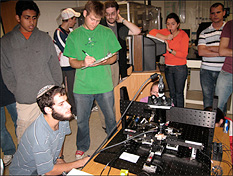 Department of Materials Science and Engineering (MSE) Lab Coordinator Robert Bonenberger, Ph.D., MSE Professor and Chair Robert M. Briber, Department of Mechanical Engineering (ME) Associate Professor Hugh Bruck, Jaime Cardena-Garcia, Ph.D., and MSE Associate Professor Luz Martinez-Miranda recently completed work on an NSF-funded project titled "Development of Educational Materials and Acquisition of Equipment for a Nanoscale to Microscale Engineering Laboratory." The project, supported by the NSF's Course, Curriculum and Laboratory Improvement (CCLI) program, was used to develop new laboratory experiments that effectively engage undergraduate engineering students in the scientific processes and exploration of concepts in nanotechnology. Work funded under the proposal also helped integrate significant advances in nanotechnology research with the undergraduate engineering laboratory curriculum through the development of a new teaching lab.
Two significant experimental systems were assembled to give students an enhanced laboratory experience: a pair of micro-tensile testers, used for determining the mechanical properties of micron-scale devices and materials; and an integrated nanoindentation/scanning probe microscope (SPM) testing system, used for measuring the hardness and elasticity of materials at the nanoscale, and for imaging samples.
The equipment forms the core of the new Modern Engineering Materials Instructional Laboratory (MEMIL). Located in the Jeong H. Kim Engineering Building, the 2241ft2 facility serves as a shared undergraduate lab for materials testing and characterization and is used to accommodate the needs of multiple departments within the Clark School.
Bonenberger explained the importance of the new equipment to students' educational experiences: "Materials' properties are different at the micron and nanoscales—it seems like you have to rewrite the laws of physics. Things that are unimportant at the macro scale suddenly become very relevant. This equipment allows students to understand that. It also exposes them to concepts and tools that can be used for cutting edge research. It's a hook to get them interested in materials."
Learn More:
Bruck's junior-level ENME 382: Engineering Materials and Manufacturing Processes class was one of those that benefited from the new equipment and curriculum. Below are two examples of lab modules created for it as part of the overall project:
Visit the NSF's CCLI Program web site »
Visit the MEMIL web site »
Published November 1, 2007