Pecht and Gu Awarded New Patent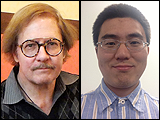 Professor Michael Pecht and mechanical engineering alumnus Jie Gu, Ph.D. '09 were awarded a patent for a method to implement prognostics and health management of individual electronic products that can determine the quality of specific electronic components.
"Prognostics and Health Management Implementation for Self Cognizant Electronic Products," (U.S. 8,494,807 B2, July 23, 2013) is a method that determines a healthy baseline created in the manufacturing process, for a particular electronic component that "serves as a fingerprint for future diagnostics and prognostics," according to the patent document.
The prognostics and health management of electronics "has become a hot-bed of innovation," said Pecht, who is also director and founder of the Center of Advanced Life Cycle Engineering (CALCE). "I have been blessed with some of the most outstanding graduate students with strong math skills as well as engineering expertise," that can help develop the opportunities in this field into future innovations.
Gu is encouraged that his hard work with Pecht has paid off with his first U.S. patent. A former CALCE student, he now works as a reliability engineer at Apple. He appreciates the knowledge he gained during his graduate studies in the department that gave him a "solid technical background as well as presentation skills."
This is the third patent Pecht has received this year. He and Shunfeng Chen received a patent on April 16 for "Prognostic and Health Management Method for Natural Aging Systems" and on April 23 for "MEMS Barcode Device for Monitoring Medical Systems at Point of Care" with fellow collaborators Ravi Doraiswami, Arvind Sai Sarathi Vasan, Yunhan Huang and Andrew Michael Kluger.
Pecht and his reliability prognostics team at CALCE show no signs of slowing down – they have a "huge number" of ideas for additional patents and are searching for support to help further develop these concepts.
For more information about Pecht and his work visit his faculty webpage.
Published August 2, 2013