Peggy Brumfield Honored for Years of Service at Clark School Awards Ceremony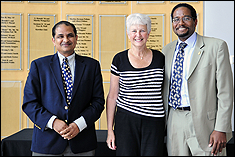 Department of Mechanical Engineering's Executive Director of Administrative Affairs, Peggy Brumfield was honored by the A. James Clark School of Engineering at a staff appreciation event on May 3. This event celebrated the service of Clark School staff who have worked for the school for 20, 25, 30, and 35 years. Dr.Darryll Pines, Dean of the Clark School, gave the opening remarks, followed by a presentation of awards by department. Brumfield will celebrate her 25th year at the Department of Mechanical Engineering this September.
Others who were honored include Debora Y. Chandler, who has worked for 35 years with the Department of Aerospace Engineering, and Nina K. Morris, who has worked for 25 years in the Department of Chemical and Biomolecular Engineering. Three staff members from the Dean's Office each received an award: Gabrielle A. Barnhart, 25 years, Robert J. Pelletier, 30 years, and Heidi Winick Sauber, 25 years. Shyam K. Mehrotra, 30 years and Jeanette M. Tarter, 25 years, were both honored by the Department of Electrical and Computer Engineering, and Karen L. Russo, 30 years, was honored by the Maryland Technology Enterprise Institute. The award ceremony was followed by a dessert reception.
Published May 14, 2012