Peter Sandborn Earns Best Paper Award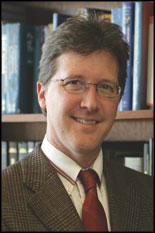 Associate Professor of
Mechanical Engineering
and
The Center for Advanced Life Cycle Engineering
(CALCE) affiliate
Peter Sandborn
earned
The Engineering Economist
journal 2006 Best Paper Award for his research "
Obsolescence Driven Design Refresh Planning for Sustainment-Dominated Systems
," co-authored by Sandborn's former graduate student and 2004 ME alumni Pameet Singh, Ph.D.
The paper highlights research on how to better predict when to redesign long-life systems. Long-life systems, such as the electronics in aircraft and 911 communications systems, are manufactured for many years and then have to be maintained for 20 or more years after that. But every electronic part in them is obsolete within the first 5 years. The methodology developed by Singh and Sandborn allows selection of design refresh dates and contents that minimize the sustainment cost of such systems.
The award is given annually by the editors of The Engineering Economist, a joint publication of the Institute of Industrial Engineers' Engineering Economy Division and American Society of Engineering Education's (ASEE) Engineering Economy Division. The quarterly refereed journal is the only publication devoted to the field of capital investment analysis and related topics in the private and public sectors. Articles on such topics as capital budgeting, project evaluation, equipment replacement analysis, and economic design are regularly featured.
Published April 11, 2007