President Loh's Spring 2013 Message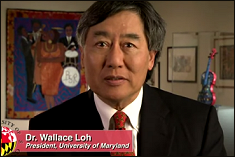 The spring semester is always an exciting time at the University of Maryland!
There is so much going on here in College Park. We recently announced a potential partnership with the Corcoran Gallery of Art and College of Art + Design; marked the one year anniversary of our alliance with the University of Maryland, Baltimore called MPowering the State; launched the new Academy of Innovation and Entrepreneurship, and produced our second annual "30 Days of EnTERPreneurship," including the now-national Cupid's Cup student entrepreneurship competition, the Do Good Challenge and a host of other special events.
In this short video, we feature a few of our recent highlights.
Please watch video, and be sure to forward it to your family, friends, and colleagues.
Published April 15, 2013