RoCo Advances to Beta Test Before Public Launch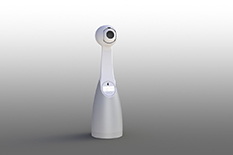 In 2016, at the U.S. Department of Energy's Advanced Research Projects Agency-Energy (ARPA-E) Innovation Summit, Minta Martin Professor Reinhard Radermacher and a team of engineers, researchers and designers showcased the first prototype of RoCo, a roving comforter or air conditioner that offers personal cooling and significant energy savings.
"We want to see how far we can take this," Radermacher, director of the University of Maryland's (UMDs) Center for Environmental Energy Engineering, told The Washington Post that year.
ARPA-E sponsored research to develop RoCo through a three-year contract and UMD, together with Oak Ridge National Laboratory, investigated RoCo's performance in terms of comfort, energy efficiency, operating characteristics, ease of use, and customer acceptance.
Now Mobile Comfort, Inc., a Maryland startup established to commercialize new technology developed at UMD, has announced plans to beta test RoCo this summer. The company, in collaboration with UMD and the Department of Energy, has been working with leading industry partners to design the next RoCo prototype with the goal of scaling production and selling the technology as a branded product. The beta test will help the company gather feedback from users before the public launch.
"We anticipate that RoCo will disrupt the industry by keeping people cool in places where conventional air conditioning is impractical, or lowering utility bills in more conventional spaces, including low-density office or residential settings," said UMD alumna Amy Schlom, who is spearheading the marketing effort. "What separates RoCo from currently available air conditioning systems is the patented technology to store waste heat for up to 8 hours. Projected energy savings are 12 to 30 percent."
Where air conditioning is impractical, such as warehouses or outdoors, the need for RoCo is promising. Also, RoCo could help avoid over-cooling large areas by providing cooling to only those who need it.
"Our laboratory tests show a clear improvement of comfort while saving energy in multifamily residential buildings and small office spaces," said Todd Stave, CEO of Mobile Comfort. "We're excited to get it out in the field to measure how people use RoCo in the real world and to gauge their overall satisfaction with the experience."
Mobile Comfort is seeking volunteers to try RoCo in homes or offices for one month during the peak heat of summer 2019. The beta test will take place throughout the U.S. and Canada. For more information or to participate in the beta test, visit the Mobile Comfort website.
Published January 11, 2019