Romano Awarded SWE Scholarship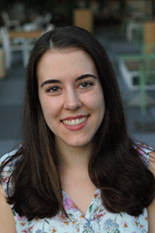 Rachel Romano, a senior mechanical engineering student in the University of Maryland's A. James Clack School of Engineering, recently received a scholarship from the Society of Women Engineers (SWE). The award is part of a $100,000 contribution from TE Connectivity to provide scholarships for women and girls pursing engineering degrees.
Romano, who is minoring in Sustainability Studies, is a member of the University Honors Program and the RISE Leadership Academy. She is a co-leader of the solar sub-team within the Sierra Leone project group for Engineers Without Borders, a teaching fellow for the Flexus seminar led by Veronica Perrigan, and works at the Engineering Career Services Office as a peer advisor. Romano is also a member of Tau Beta Pi and works as a SEEDS mentor.
"I am most excited to apply my mechanical engineering degree to overcome the various barriers in wide-scale implementation of clean, sustainable energy generation and distribution," she told SWE. "I want to help develop new technologies and tackle issues with current ones that make a difference in solving the growing energy crisis, to ensure our future is a bright one."
In April, Romano won the Dinah Berman Memorial Award, which is given to a third year engineering student with a 4.0 grade point average who has combined academic excellence with demonstrated leadership or service to the Clark School.
Published October 8, 2018