Safe and Sound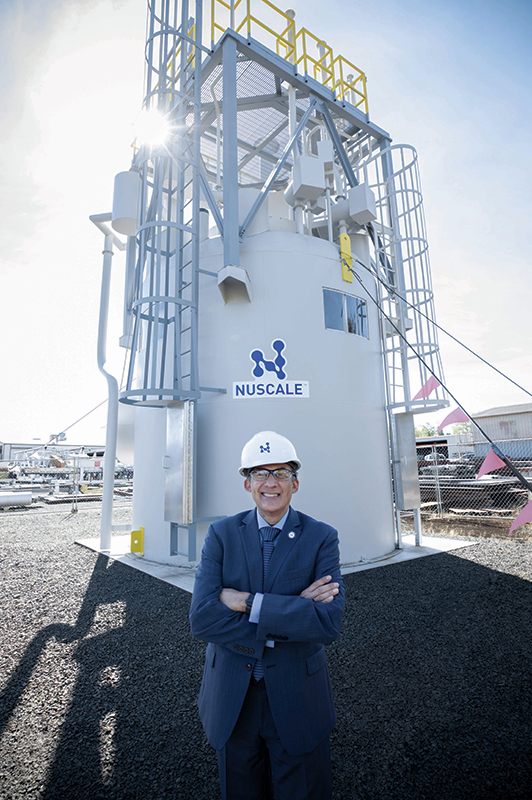 The tall white pods of NuScale Power's electric generation modules are reminiscent of super-sized vitamin capsules, unassuming and mellow. Yet within them lies the embodiment of a powerful vision for a cooler, cleaner, less thirsty world: a technology that produces green energy—and clean water.
The figure responsible for this invention is similarly understated. His gentle, warm, and quietly focused demeanor belies a rigorous dedication to research: For the last 20 years, José Reyes (M.S. '84, Ph.D. '86) has been researching, building, testing, probing, refining, and real-world-proving the small modular reactor he first drafted in 1999.
Reyes and NuScale co-founder Paul Lorenzini launched their startup with the goal of bringing their revolutionary technology to market. Thirteen years later, in August 2020, NuScale's small modular reactor design was the first of its kind to be greenlighted for commercialization by the Nuclear Regulatory Commission.
Inducted to the Clark School's Innovation Hall of Fame (IHOF) in late 2021, Reyes joins other notable inventors including fellow Maryland alum George Laurer ('51), who created the Universal Product Code (UPC), freeing cashiers everywhere from manual price input.
Engineers like Reyes and Laurer see the world differently, says Samuel Graham, Jr., dean of the Clark School. "Inventors use their knowledge, perseverance, innovation, and ingenuity to change how we do things in the world," Graham said at Reyes' IHOF induction. "They see a vision of things that don't yet exist, and how the world can be a better place."
Published March 14, 2022