Sandborn writes about obsolete systems for IEEE Spectrum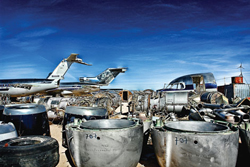 "Every time I have to buy more memory for my PC to run a new version of software, the impact of technology obsolescence hits home," Sandborn says.
ISR-affiliated Associate Professor
Peter Sandborn
(ME) is the author of an article about the inevitable depletion of crucial components as systems age in the April 2008 issue of
IEEE Spectrum.
In Trapped on Technology's Trailing Edge Sandborn defines an obsolete system as one whose design must be changed or updated merely to keep the system in use. According to Sandborn, the results of such systems failures range from "unexpected, budget-busting expenses," to "sweeping, potentially life-threatening consequences."
Read the full story at IEEE Spectrum's web site.
Published August 5, 2008