Sharma's Research Group Explores Physical Phenomena Across Multiple Disciplines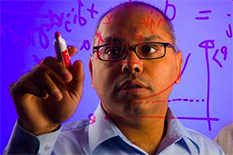 Alumnus Pradeep Sharma (Ph.D. 2000) is leading a research group at the University of Houston that employs theoretical and computational approaches to explore physical phenomena across a wide range of disciplines—from materials science to biology.
Sharma, the M.D. Anderson Chair Professor and Department Chair of Mechanical Engineering at University of Houston, oversees a research team that collaborates with experimentalists to use various methods of applied mathematics, continuum mechanics, and atomistic and quantum simulations.
Sharma recently coauthored an article that was published in Physical Review E that explained how and why some animals such as sharks and birds are able to detect magnetic fields.
Sharma has received several awards, including the prestigious Melville Medal from the American Society of Mechanical Engineers and a Fulbright Fellowship.
Published October 30, 2018