Student Chapter Wins Big at WEEC Event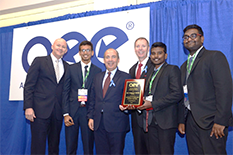 The University of Maryland Association of Energy Engineers (AEE) Student Chapter recently won the Best Overall Performance Student Chapter Award and Best Community Service Award at the World Energy Engineering Congress (WEEC). An international energy industry conference and exposition hosted annually by AEE, the event, which features technological exhibits as well as multiple seminars and panel sessions, brings together energy industry professionals, global leaders and students interested in the energy industry.
The student chapter received the award from the former president of Mexico, Mr. Felipe Calderon; AEE President, Bill Kent; and former AEE president, Eric Woodroof. The chapter won the community service award for educating young kids and their parents about solar power and energy efficiency through two projects at Maryland Day and it won the overall best performance award for increasing its members from 15 to 100 and participating in four events during 4 months of chartering. "These awards signify the excellence of our chapter mission," said Aldrich Raja, president of the chapter. "They motivate us to continue to do great things."
The chapter aims to educate students in the field of energy engineering; spread awareness about the changes in energy market; offer insights about renewable energy and promote an easy transition to green energy; provide networking opportunities; educate students about energy institutes and projects led by UMD and encourage involvement; and inform students about the increasing number of nationwide energy projects and research endeavors supported by Department of Energy.
Since it was chartered in February 2018, the chapter has been very active in UMD campus events, including the Energy Extravaganza, Sustainability Day, Maryland Day, the Maryland Clean Energy Summit, and other events. In addition, the chapter recently hosted a webinar on strategies and best practices for searching for energy jobs.
Published December 3, 2018