Students Win Graduate School Dissertation Awards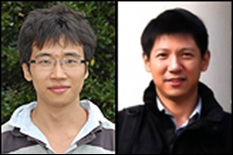 Two mechanical engineering doctorate candidates have received prestigious university dissertation awards - Zheng Jia won the Graduate Dean's Dissertation Fellowship and both Jia and Jiajun Xu won the Ann G. Wylie Dissertation Fellowship.
Jia received one of 11 Graduate Dean's Dissertation Fellowships in its inaugural year from the Graduate School. He was the sole recipient in the A. James Clark School of Engineering. Jia will receive a 12-month stipend for $25,000 in addition to tuition remission and $1,600 to pay for health insurance.
Both Jia and Xu won the Ann G. Wylie Dissertation Fellowship that will help the students with the final stages of their dissertations. They will receive a $10,000 stipend, $800 to cover health insurance and tuition remission for the fall 2013 semester. Each year the Graduate School awards about 40 students with this fellowship.
Xu's dissertation, "Experimental and Computational Study of Novel Heat Transfer Fluids: Nanoemulsion Heat Transfer Fluids," supervised by Associate Professor Bao Yang, explores experimental and numerical simulation results of these fluids and their extraordinary heat transfer capabilities compared to conventional heat transfer fluids. The development of these fluids could significantly impact the thermal management of electronics and optoelectronics as well as industrial heat exchange and distributed heating systems.
The aim of Jia's dissertation, "Failure Mechanics of Functional Nanostructures in Advanced Technologies," supervised by Associate Professor Teng Li, is to shed light on the characteristics of the failure mechanisms of novel functional nanostructures and to explore possible solutions to effectively enhance the mechanical durability of these nanostructures.
Xu plans to defend his dissertation before December 2013, while Jia plans to defend his by May 2015.
Published May 14, 2013