The Lasting Legacy of George Dieter, 1928-2020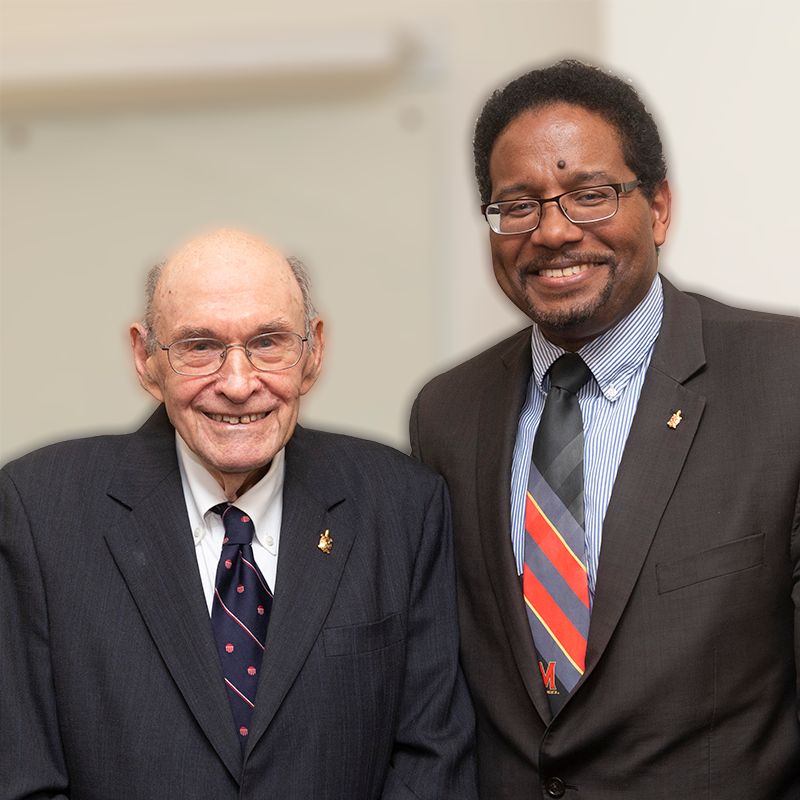 The Clark School community mourns the loss of George E. Dieter, who served as dean of engineering at the University of Maryland from 1977–94.
A few years into George Dieter's tenure as dean of the University of Maryland's Glenn L. Martin Institute of Technology, he came to Bill Fourney, then chair of the Department of Mechanical Engineering, with an ambitious plan: to climb the ranks and become one of the top public engineering programs in the country.
Fourney had reason to be skeptical. At the time of their conversation in 1981, Maryland's engineering program wasn't even a stand-alone college or school; it was part of the university's Division of Mathematical, Physical Sciences and Engineering. It was pulling in roughly four million dollars annually in sponsored research and awarding fewer than 100 master's degrees a year. But with the advent of the digital computer, mounting cold war tensions, and advances in technology and manufacturing, Dieter saw the need for engineers—and good programs to train them—exploding globally.
With three years at Maryland under his belt, he saw unbridled potential for growing the engineering program, increasing enrollment, and forging the kind of partnerships and programs that would put it on the pedagogical map.
"I told him that if we did the right things, we'd continue to move up—but becoming a top public engineering program certainly wouldn't happen in our lifetime," recalls Fourney. "As it turned out, I was wrong, and a lot of that is owed to George. He had a vision for what it was going to take to be counted among the equals of Berkeleys and other reputable public schools."
Throughout his distinguished career and during his tenure at UMD, Dieter had the foresight to translate to education what was happening in the field, the state, and the world. Some of the Clark School's most foundational changes—including the addition of six new graduate programs and the launch of the Maryland Technology Enterprise Institute (Mtech), the Institute for Systems Research (ISR), the distance learning program, the Gessow Rotorcraft Center, the Center for Minorities in Science and Engineering (CMSE), and the Women in Engineering Program—were born and nurtured under Dieter's watch: with them came increases in both enrollment and research dollars.
"He pushed good ideas, and he loved what he did," says Professor Emeritus Davinder Anand, a longtime colleague and friend who was on Dieter's hiring committee in 1977. "He was very dedicated to advancing both engineering education as well as the college. He built that foundation and, eventually, the money and prestige followed."
Dieter came to UMD in 1977 from Carnegie Mellon University, where he was a professor of engineering and the director of the Processing Research Institute. As dean at Maryland, Dieter created the school's first Board of Visitors (BOV), a cadre of industry leaders from companies like Westinghouse and Bethlehem Steel—many of them UMD alumni. He increased the school's institutional capital, hiring faculty in rapidly advancing fields like biochemical engineering, microelectronics, materials, and computer engineering. With these pieces in place, he was able to flesh out the ideas that would strengthen the college's prowess and reputation. In the early '80s, Dieter and the BOV set their sights on revving Maryland's economic engines, lobbying the governor for funding to create the Engineering Research Center, a pivotal force in the college's forward momentum. Known today as Mtech, it leveraged the school's tools and talent to bring research and innovation to the industry, driving business and creating jobs throughout the state.
"It was really like throwing a switch," says Fourney. "The funding coming in through Mtech outfitted the labs with new equipment so that faculty and students would be better able to help businesses solve their problems. George was very intent in seeing us become more aligned with where the world was going, and it was a paradigm shift in our ability to move towards that goal."
With alum Arnold Seigel ('44 mechanical engineering), Dieter helped launch the Instructional Television program (ITV), the university's first foray in distance education, bringing engineering instruction to scores of remote students and professionals from across the state of Maryland. It now offers undergraduate and graduate coursework to students around the world. He helped usher in the first major National Science Foundation (NSF) grant in the college's history, establishing ISR, one of NSF's six original Engineering Research Centers; other major research centers, including the Center for Advanced Life Cycle Engineering and Center for Environmental Energy Engineering, were also created during his tenure.
Dieter had a keen eye for the expertise and talents of his faculty and staff, advocating for the funding, tools, and space they needed to enhance the activities of the school. He was voracious in his reading and would regularly leave clips on the desks of colleagues. Contending with state budgets, Dieter was a master at making more out of less. He was a champion of innovative coursework that enhanced a student's creative thinking and team-building skills, like the Department of Mechanical Engineering's senior capstone design course, the ENES: Engineering Science coursework, and Engineering for Social Change, a course developed by Anand that encourages students to consider the social impact of engineering. He also looked for ways to diversify the school's student body and was a steadfast supporter of initiatives to support women and minorities.
"I don't know if there would be a center if there was no George Dieter," says Rosemary Parker, director of CMSE. "As dean, he set the bar. If he didn't go along with it, it wasn't going to happen."
Parker has copies of the many letters Dieter sent to company executives lobbying for CMSE support and funding, which she credits to elevating the work the center did for students of color.
"He understood how a career in engineering could be transformative to a person's life—how it could take them from one socioeconomic level to the next. That's important to some of our students. George understood and helped me to understand that," she says.
Upon his retirement in 1994, Dieter became professor emeritus and a regular fixture in the Department of Mechanical Engineering, ramping up his teaching and immersing himself in academic life. He was a regular judge at student competitions and was tapped to help with the design of new buildings, like A. James Clark Hall. He was remembered for taking an interest in each student's whole story, their interests, and their aspirations—even where they went to high school. Despite being one of the oldest faculty in the department, he was one of the sharpest, say former students Lauren White ('08) and Kyle Carson ('08). Dieter's class, a senior-level course in quality management, quieted the "noise" of engineering by re-centering it in real-world problem solving, says White.
"It was George Dieter's vision that put UMD's engineering program on a global map, and I was honored to continue in his footsteps, serving as Clark School dean from 2009–2020.
His impact and contributions will be forever honored and remembered at the University of Maryland."
"We did the math: he was around 80 years old when he taught us," laughs Carson. "I really appreciated his energy. He had an incredible passion for education and a passion for doing it the right way."
White remembers Dieter making a point to attend her final senior presentation. "He had a lot of students, but years after I graduated, I reached out to say hello and he remembered exactly who I was. It meant so much to me. He was a legend."
Dieter was old-school in many ways: incredibly organized and a stickler for details, he wore a jacket and tie every day and was flummoxed by students who wore ball caps indoors. He never ended a class a minute before advertised and expected students to bring their books each day. But his leadership, engagement, and vision for engineering education was revolutionary, says Professor Linda Schmidt, a close colleague who remembers that, in an environment when female faculty were rare, Dieter was an advocate for women and worked to treat everyone as equals. He collaborated with and supported a number of Clark School leaders—among them former Associate Dean Marilyn Berman Pollans—to create opportunities for women to advance, both within the faculty and staff ranks and in the classroom.
He and his wife Nancy quietly supported both programs and scholarship throughout his time at Maryland, including gifts to the Capstone Design Enhancement Fund and Engineering for Social Change; in 2007, they established a merit-based scholarship through the Women in Engineering Program in honor of their late-daughter, Barbara.
"I think George's efforts had to do with seeing the future, and he was a man who put his money where his mouth was," says Schmidt. "He was a good guy, well-respected, and brought so much to the table. He was this archiving service of the school, but he had a broad and I think modern view of what the university should be."
Schmidt, who considers Dieter a mentor and father figure, collaborated on the last three editions of his second book, Engineering Design, complementing Dieter's expertise in materials with her own in design. The sixth edition, which came out in 2019, was the best, says Schmidt, and was the pinnacle of their partnership.
"We looked at things from completely different points of view, which probably made our partnership really good," she says. "He could come up with something truly perfect, and I would be like, 'wow, I wish I thought of that.'"
Dieter's reputation went leagues beyond the campus gates; in industry and educational circles he maintained a celebrity status. His best-selling books—Engineering Design and Mechanical Metallurgy—were on the shelves of engineers around the world and ubiquitous in university classrooms. A former student of Dieter's, who interviewed at a major aeronautics company shortly after graduating, shocked the interviewing panel when they discovered "THE George Dieter" was on his advisory committee. On two occasions overseas, Schmidt was asked by colleagues to lug home a copy of Mechanical Metallurgy for Dieter to autograph.
"I've traveled all over the world; when I went to other universities, he was always the one that everyone asked about, because they all used his book," says Anand. "It was the gold standard."
Dieter earned his bachelor's from Drexel University and a doctorate from Carnegie Mellon. He worked with the DuPont Engineering Research Laboratory before launching his lifelong career in education, beginning as head of the Metallurgical Engineering Department—and later, dean of engineering—at Drexel University.
Dieter was inducted into the National Academy of Engineering in 1993. He was a Fellow of the American Society for Engineering Education (ASEE), where he also served as president, and a Fellow of the American Society for Metals (ASM), American Association for the Advancement of Science (AAAS), and American Institute of Mining, Metallurgical, and Petroleum Engineering. He received the UMD President's Medal in 2004 and the education award from ASM, TMS, and the Society of Mechanical Engineers. He also received the Benjamin Garver Lamme Award for his contributions to engineering education, the highest award bestowed by the ASEE.
"During his long career, George Dieter made many significant contributions to his own university and to the broad field of engineering education. He was president of ASEE at a time of some tension, and his strong leadership helped to keep the Society operating effectively," said ASEE Past President Lyle Feisel in a statement. "George will long be remembered for his contributions to engineering education and his dedicated service to ASEE."
Dieter's legacy at the Clark School is etched in its fabric. It's also emulated in the individuals he touched and who continue to realize the vision he put forth 40 years ago: the deans that followed him, the faculty and staff who share his passion, and the students who benefit, each day, from what he built.
"It was George Dieter's vision that put UMD's engineering program on a global map, and I was honored to continue in his footsteps, serving as Clark School dean from 2009–2020," says UMD President Darryll J. Pines. "His transformational leadership created a foundation of achievement upon which I was proud to build. His impact and contributions will be forever honored and remembered at the University of Maryland."
Published March 10, 2021