Tim Sweeney Inducted into AIAS Hall of Fame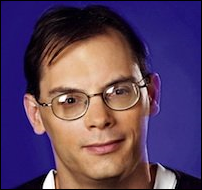 Former ME student Tim Sweeney,  founder and CEO of Epic Games, has been inducted into the Academy of Interactive Arts & Sciences (AIAS) Hall of Fame. Sweeney, a native of Potomac, MD, is responsible for a number of important gaming innovations, including the well-known Unreal game engine, the critically acclaimed series Gears of War, and the landmark text-based game ZZT. Martin Rae, AIAS President, remarked on Sweeney's important contributions to the gaming industry: "Tim's vision has changed the face of gaming with the advent of the unreal engine and the commitment of Epic, as a studio, to bring both consumer and industry-facing technology to new heights."

In 1991, while a student at Maryland, Sweeney founded Epic - then known as Potomac Computer Systems - in Rockville MD. In an interview with gaming website Gamasutra, Sweeney commented on his undergraduate education at Maryland: "…the math courses were immensely useful. There are some things you just don't know you need to know until you know them."

The AIAS states that the Hall of Fame award is "reserved for individuals who have been instrumental in the development of highly influential games" and who are "usually associated with having moved a particular genre forward."   In addition to Sweeney, other AIAS Hall of Fame members include Shigeru Miyamoto (creator of Super Mario and The Legend of Zelda), Sid Meier (creator of Civilization), and Will Wright (creator of Sim City and The Sims). Sweeney will be presented with the award at the 15th Annual Interactive Achievement Awards, which will be hosted by actor Jay Mohr on Thursday, February 9, 2012 at the Red Rock Resort in Las Vegas.

For more information on the Academy of Interactive Arts and Sciences, visit their homepage. More information about Epic Games can be found at their website.
Tim Sweeney will give a special presentation on March 29 at 5 p.m. in room 1202 Martin Hall.  For more information contact Cornelia Kennedy at ckennedy@umd.edu
Published January 27, 2012