Tour to Feature Kim Building, DETS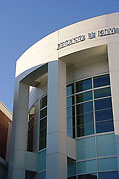 The Jeong H. Kim Building and the Clark School's Distance Education Technology Services (DETS) facilities will be featured on a tour of campus learning facilities as part of the
Campus Technology
2007 conference, "Roadmap to IT Leadership."
Clark School facilities to be highlighted include the DETS video-conferencing services and MediaSite capture and video streaming capabilities in Martin Hall. In the Kim Building, the Virtual Reality Laboratory will be featured along with the lecture hall and the building's various informal meeting and learning spaces. Facilities in A.V. Williams will be on the tour as well.
The conference on higher education technology is hosted by Campus Technology magazine and will be held in Washington, D.C.
For more information on the Clark School's facilities, please visit the following web pages:
Published July 19, 2007