Two Engineering Students Receive Research Awards sponsored by Mercedes-Benz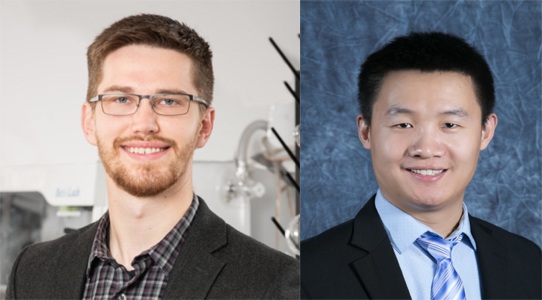 Steven Lacey, PhD candidate in Materials Science, and Fudong Han, PhD candidate in Chemical and Biomolecular Engineering, at UMD have both received Battery Division Student Research Awards from the Electrochemical Society and sponsored by Mercedes-Benz Research and Development. Only two student research awards were presented this year, both going to UMD students. The Battery Division Student Research Award was established to recognize promising young engineers in the field of electrochemical power sources. The award carries a $1000 prize, a complimentary student meeting registration and travel expenses to facilitate meeting attendance.
Lacey begin collaborative energy storage research as an undergraduate at UMD working with US Army Research Laboratory scientists to develop a planar device platform to study alkali-metal-ion battery operation. He current PhD research focuses on nanomaterial synthesis, understanding battery fundamentals, and developing alternative electrode manufacturing processes for advanced electrochemical energy storage systems and was recently published in Science.
Han's PhD thesis focuses on developing safe, high-performance all-solid-state batteries through understanding and addressing the key challenges in electrodes, solid electrolytes and their interfaces. Han has published 49 peer-reviewed papers and co-authored two U.S. patents.
Mercedes-Benz Research & Development North America, a part of the Daimler Group and a wholly-owned subsidiary of Daimler North America Corporation, consists of four divisions including Group Research & Advanced Engineering, eDrive & Powertrain, TechCenter and Advanced Design. Through supporting Daimler R&D, MBRDNA serves a vital role in the Daimler 2020 vision of becoming the top selling luxury brand in the world.
The Maryland Energy Innovation Institute brings together science, industry, government and economic leaders to develop new energy technologies and facilitate the transfer of technology ideas into a reality. For more information, please visit: energy.umd.edu
Published September 14, 2018