UMD Team Receives RevCon Award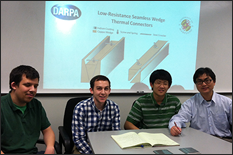 A University of Maryland (UMD) team was selected for an award in the 2014 International Field-Reversible Thermal Connector (RevCon) Challenge with their proposal for "Low-Resistance Seamless Wedge Thermal Connectors."
This year's event challenged student teams to develop novel design concepts for a field-reversible, low resistance thermal connector compared to current designs. Student proposals had to address the uniqueness of their design, concept feasibility, cost analysis and a clear plan for fabricating and testing their prototype.
Thermal management is crucial to the performance and reliability of high power electronics. Field reversible thermal connectors are used to mechanically attach circuit boards to aluminum cold blocks while providing a thermal path for heat to leave the board.
The UMD RevCon team included Mechanical Engineering Associate Professor Bao Yang, undergraduate students Joseph Fustero (Mechanical Engineering) and Haoyun Liu (Electrical and Computer Engineering) and graduate student Michael Manno (Mechanical Engineering).
According to their proposal, the team will "develop a new wedge-based thermal connector that is capable of providing a thermal resistance far less than 0.2 oC/W under vibration and a clamping force larger than 600lbf (2669N)." The results will also be relatively easy to implement and cost effective to produce.
The prototypes are expected to perform with a variety of technical metrics, including thermal resistance, clamping force, single-frequency tests, insertion/removal of prototype thermal connector and dimension of prototype thermal connector. The UMD RevCon team surpassed their prototype expectations in thermal resistance (<0.2°C/W under vibration) and clamping force (>600lbf (2669N), and they have already submitted a provisional patent for their work.
As one of the first round teams chosen for the award, the team will receive $7,500 to continue refining their prototype, and if selected as a finalist, they will be invited to travel to the University of Missouri Columbia, Mo., to present and demonstrate their RevCon connectors to an audience of judges, government and corporate technologists on November 10, 2014.
RevCon is supported by Defense Advanced Research Projects Agency (DARPA) and, this year, was hosted by the University of Missouri–Columbia (MU).
For more information on the RevCon challenge, please visit the challenge details.
Published February 28, 2014