$50k for Solar Decathlon Team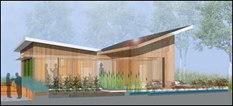 The
UM Solar Decathlon
team has received $50,000 from Constellation Energy in the form of an "Energy to Educate" grant, one of 10 such awards to schools around the country.
The team will be able to use the funds for any portion of the project--materials, planning, construction, furnishings, etc.
"The E2 Energy to Educate Grant from the Constellation Energy Foundation will provide UM's interdisciplinary WaterShed team with resources to complete its mission: to research, design, build, and ultimately bring to the US Department of Energy Solar Decathlon 2011 competition a solar-powered house inspired by the rich, complex ecosystems of the Chesapeake Bay watershed," said Amy Gardner, associate professor of architecture and one of the faculty advisors to the Solar Decathlon team.
The gift earns Constellation Energy an "Ocean Side" level sponsorship of the team. It is the lead donor at this level. For more details on how to sponsor the Solar Decathlon team, visit their web site.
The E2 grant program targets projects that advance energy innovation and build on student knowledge and application of science, technology, engineering and math (STEM). To qualify for an E2 Grant, projects had to reach a minimum of 100 students and be located in an area where Constellation Energy does business. The program was open to students in grades 6 through 12, as well as those attending two- and four-year colleges and universities.
Published January 19, 2011