Hannah Henningsgaard Receives CIEE Scholarship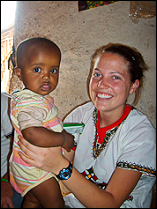 Portland, Maine - March 1st, 2011 CIEE: The Council on International Educational Exchange, a world-leader in international education and student exchange, has just announced the acceptance of Hannah Henningsgaard, a Mechanical Engineer at the University of Maryland, College Park, to a prestigious Scholarship to South Korea from March 18-26 2011. Hannah is one of 75 university students selected to participate in the second annual South Korea Scholarship Program for university students, which is referred to in Korea at the Korea - US Youth Network. Students will be hosted by Yonsei University South Korea's oldest and most acclaimed university located in Seoul, South Korea. Participants will attend academic lectures, tours, and cultural excursions throughout the program, with the intention of fostering understanding and diplomacy between the U.S. and South Korea.
CIEE has partnered with the Korea Foundation, a nonprofit organization aimed at promoting awareness and understanding of Korea throughout the international community, and to enhance goodwill and friendship through the implementation of various international exchange programs.
On March 17, Hannah will set off to represent the United States and the University Of Maryland, College Park. The program begins in one of four U.S. gateway cities, where students will be met by CIEE representatives who will provide them with a pre-departure orientation to prepare them for their experience abroad.
Successful completion of the program allows alumni to return with unique experiences and invaluable confidence and optimism for their futures.
Qualified students are encouraged to apply for future programs; Students interested in applying for the scholarship should visit http://www.ciee.org/southkorea. Families interested in hosting exchange students in the U.S. should contact CIEE for more information (800) 448-9944 or visit http://www.ciee.org/highschool.
About CIEE:
Founded in 1947, CIEE: Council on International Educational Exchange is a non- profit, non-governmental organization dedicated to quality exchange and global learning opportunities. The CIEE USA High School program is designated by the U.S. Department of State to sponsor our student on a J-1 visa to attend high school in America. CIEE is approved by the Council on Standards for International Education Travel (CSIET). The CIEE mission, to help individuals gain understanding, acquire knowledge, and develop skills for living in a globally interdependent and culturally diverse world, is accomplished through diverse programs ranging from secondary level study abroad to teacher and faculty development seminars.
Published March 8, 2011