A Tech Rx for COVID Recovery at Home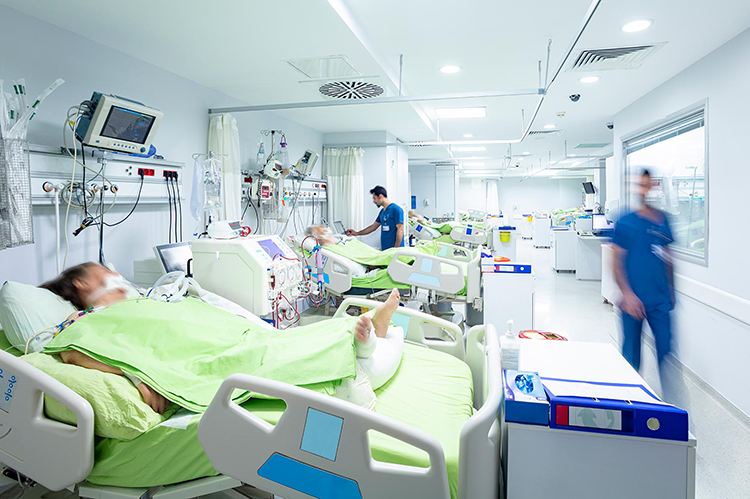 While pharmaceutical companies globally vie to develop a vaccine to make COVID-19 a problem of the past, a University of Maryland student is working to tackle one of the complications of a pandemic that's still very much with us.
Emily Cho '22, a mechanical engineering major, co-founded a multi-institutional team of students brought together by a National Academy of Engineering (NAE) effort and supported by the the A. James & Alice B. Clark Foundation and the Royal Academy of Engineering (RAE).
The team is developing a wearable monitoring device to allow high-risk patients to safely go home while remaining under the watchful eye of medical personnel. The device—initially developed before the global coronavirus crisis—could one day help prevent overcrowding of hospitals, particularly during pandemics and other periods of high demand.
"We started adjusting and shifting gears to help toward the COVID-19 pandemic," Cho said. "But we also see benefits of this technology potentially for future infectious disease outbreaks."
The NAE program—COVID-19 Call for Engineering Action—encourages engineers across the world to find solutions to pandemic-related problems, including stresses on the health care system, the lack of effective vaccines, and the need to facilitate online working and learning. Overall, the projects aim to combat misinformation, help people most at risk, and curb the spread of the virus.
Cho, who earned an associate's degree in engineering while in high school, knew early that she wanted to have an impact on the world. She got that opportunity at UMD when she became part of the first cohort of the A. James Clark Scholars Program.
The program is the A. James & Alice B. Clark Foundation's signature academic program, combining engineering, business, leadership, and community service. NAE's COVID-19 Call for Engineering Action provided a perfect opportunity for the Scholars.
Hospital overcrowding was an issue before the pandemic, Cho said, but COVID-19 exacerbated this problem. Her team—which included students from the U.S., the U.K., and China—was a finalist in the 2019 Global Grand Challenges Summit.
The technology they developed consists of a wearable, reusable patch for high-risk individuals that can monitor and transmit real-time health data to their health care providers. The device tracks body temperature, coughing, heart rate, and electrocardiogram (ECG) data over Wi-Fi to an online dashboard.
"We're trying to enhance remote-monitoring capabilities," Cho said. "So, ideally what we would like is for patients to … discharge faster [and], once they're discharged, give them that support in real time."
The device will collect and send data about patients, and the online dashboard will incorporate data analytics and machine-learning algorithms to inform their healthcare professionals.
Cho's team, however, did not stop at the 2019 Global Grand Challenges Summit—it has continued working for almost a year to develop a prototype and prepare to file for applicable patents for the wearable patch, which would be unique in the health care device market. Once the prototype is ready, her team will begin the process of obtaining Food and Drug Administration approval.
When the pandemic ends, population and health care trends will still make the device a useful tool for clinicians, Cho said.
"Currently, the population is expected to rise to, I believe, 10 billion people by 2050," said Cho. "So, we were already focusing on the health care industry and what we can do to reduce hospital overcrowding."
David Lovell, civil and environmental engineering professor and Cho's adviser in the Clark Scholars Program, says Cho is passionate about creating an impact. She has shown initiative—and taken on a leadership role within her team.
"There's a reason she gets selected for these things," he said. "She's a self-starter. I don't have to find stuff for her to do; my job with her is to say ye s… and try to keep up with all the ideas she'd like to pursue."
This story first appeared in Maryland Today.
Published October 21, 2020