Abrams to Deliver Student Speech for Clark School Winter Commencement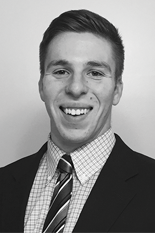 Mechanical Engineering senior Corey Abrams will be the student speaker for the A. James Clark School of Engineering's Winter Commencement Ceremony held Wednesday, December 21st at the University of Maryland Xfinity Center.
During a high school physics class competition in Millburn, N.J., Corey Abrams had to build a bridge out of toothpicks. His bridge held 2 pounds, the winner's held 140. Corey came to the A. James Clark School of Engineering to find out what went wrong.
Throughout his time at the University of Maryland, Corey had the opportunity to explore a number of different interests and industries and decided to focus on Mechanical Engineering. He learned how to apply his engineering skills through work experiences that included vehicle blast protection research under Dr. William Fourney; aluminum alloy sensitization at the Naval Surface Warfare Center; and developing efficient testing methods at STX, a hockey and lacrosse equipment design firm.
Corey also enjoyed a number of non-engineering opportunities—the social, philanthropic, athletic, and entrepreneurial experiences that he believes have greatly enhanced his college journey.
The organizations Corey holds closest to his heart include Club Soccer, where he was a 4.5-year member and player (primarily as a goalie), his fraternity, Sigma Phi Epsilon Fraternity (in which Corey counts some of his closest friends), the Greek Life Sustainability Committee, and the Startup Shell (a student-run startup incubator on campus). In addition to his Mechanical Engineering major, Corey also completed a Technology Entrepreneurship minor through the Entrepreneurship and Innovation Honors College Program and Hinman CEOs Living Learning Program.
Corey has accepted a full time position in product development with W.L. Gore and Associates in Maryland which begins in April, and he also intends to continue to work on various entrepreneurial ventures in his spare time.
Published December 5, 2016