Gupta Named 2016 AAAS Fellow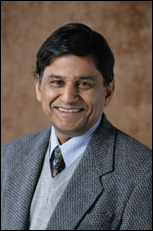 Department of Mechanical Engineering Distinguished University Professor Ashwani Gupta has been named an American Association for the Advancement of Science (AAAS) Fellow for his "distinguished contributions to combustion, propulsion, energy and environment sustainability and for contributions to education and outreach training and education, and services to industry." Election as a Fellow of AAAS is an honor bestowed upon a member by their peers for meritorious efforts to advance science or its applications.
Gupta has been a faculty member in the University of Maryland (UMD) since 1983, following six years at MIT as a member of the research staff in the Energy Laboratory and Department of Chemical Engineering and three years at Sheffield University as an independent research worker and research fellow in the Department of Chemical Engineering and Fuel Technology.
During his more than 40 years of experience in combustion engineering since his graduation from Southampton University in 1970, Gupta became known as "Mr. Green Flame" for his discovery of Green Flame, an environmentally benign flame that uses hydrocarbon fuel. He went on to develop a technology known as High Temperature Air Combustion (HiTAC) that reduces energy consumption and emissions while maintaining performance, and it is being used in industries worldwide.
Over the course of his prolific career, he has authored over 700 technical papers, three books, 12 edited books and 12 book chapters. In 2016, Dr. Gupta was elected to Fellowship of the Royal Aeronautical Society (RAeS), UK, the highest professional recognition bestowed by the RAeS. He also received the Golden Elephant Award from Thailand's Surindra Rajabhat University in recognition of his scientific achievements and collaborative efforts with their university.
He is currently a Fellow of the American Society of Mechanical Engineers (ASME), the American Institute of Aeronautics and Astronautics AIAA) and the Society of Automotive Engineers (SAE). Just this fall, Gupta was also recognized as an Honorary ASME Member during ASME's International Mechanical Engineering Congress & Exposition Conference's Honor's Assembly.
Published November 21, 2016