Alumna Receives Office of Naval Research Young Investigator Program Award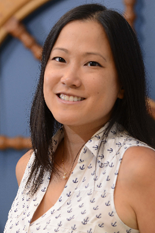 University of Maryland Mechanical Engineering alumna Christine Ikeda (Ph.D., '12, M.S., '11, B.S., '06) received a 2015 Young Investigator Program Award from the Office of Naval Research (ONR). The award provides her with a three-year $510,000 research grant.
Ikeda is currently an assistant professor of naval architecture and marine engineering at The University of New Orleans (UNO). The ONR grant will fund her research on how the hulls of high-speed watercraft interact with waves.
High-speed craft undergo repeated slams into waves that not only lead to discomfort and injury to those on board but can also damage the craft itself. The goal of Ikeda's research is to gain a basic scientific understanding of what happens to the craft's hull when it encounters these slam events on the water.
In a news story released by UNO, Ikeda said, "The results of this project will allow for the development of design criteria for high-speed navy craft that reduce weight and increase efficiency through the use of fundamental scientific principles."
During her time at Maryland, Ikeda was part of the Clark School's Future Faculty Program and completed her Ph.D. work on "The Implosion of Cylindrical Shell Structures in a High-Pressure Water Environment" under the mentorship of Professor James Duncan.
After graduation from Maryland, she became an assistant research professor at the United States Naval Academy and worked as with Professor Carolyn Judge on water impact of hydrodynamically-supported rigid bodies from 2012 to 2014.
Ikeda is one of only 36 researchers from across the country named ONR 2015 Young Investigators. ONR's Young Investigator Program (YIP) seeks to identify and support academic scientists and engineers who are early in their academic careers and show exceptional promise for doing creative research, and to support their research and encourage their teaching and research careers.
Published May 6, 2015