Duncan Completes Chairmanship Track, APS Division of Fluid Dynamics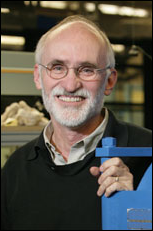 Department of Mechanical Engineering Keystone Professor James Duncan was elected to the four-year chairmanship track of the American Physical Society's Division of Fluid Dynamics Executive Committee in November 2012, and he has just completed his one-year term as division chair. He will be the division's Past Chair in 2016.
As the DFD Chair, Duncan led the division's effort to start a new American Physical Society (APS) journal for fundamental research in fluid mechanics. This effort was successful and the new journal, Physical Review Fluids, will be open for submissions on January 12th, 2016.
The Division of Fluid Dynamics (DFD) exists for the advancement and diffusion of knowledge of the physics of fluids with special emphasis on the dynamical theories of the liquid, plastic and gaseous states of matter under all conditions of temperature and pressure. It has about 3,400 members and is the second largest member unit of APS. Thirty-four percent of DFD membership is from foreign countries. The annual meeting of the DFD is held in the United States in November and there are typically about 3,200 attendees and 3,100 presentations on a wide range of topics in current research in fluid dynamics. This is arguably the premier international meeting for research in fundamental aspects of fluid dynamics.
Published January 20, 2016