Alumna Zahra Mohaghegh Becomes Assistant Professor at University of Illinois at Urbana-Champaign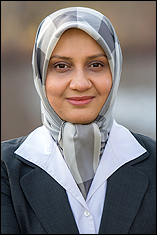 Reliability engineering alumna Zahra Mohaghegh (Ph.D., 2007) has accepted a position as assistant professor in the Department of Nuclear, Plasma, and Radiological Engineering at the University of Illinois at Urbana-Champaign. She will start in January 2013.
Mohaghegh's goals are to enhance the safety of nuclear power plants and to benefit society by reducing the probability of accidents and incidents in high-risk engineering systems. She aims to do this by advancing methodologies and techniques for Probabilistic Risk Analysis (PRA). According to Mohaghegh, "in order to preclude catastrophes, we need to quantitatively and more comprehensively integrate the interactions of social and technical contributing factors into risk models."
A Ph.D. and post-doc at UMD provided her with an opportunity to analyze risk-informed decision making for the design, operation, and regulatory oversight of complex systems. She received the George Apostolakis Fellowship in June 2012 for her achievement in the risk assessment field.
Mohaghegh's doctoral research, supervised by Professor Ali Mosleh, focused on developing and quantifying SoTeRiA (Socio-Technical Risk Analysis), a multi-level risk framework that serves as a "theoretical foundation for the integration of technical system PRA models with the social features (e.g., safety culture) and the structural aspects (e.g., safety practices) of the organization operating the system." Mohaghegh's research benefited significantly from the multidisciplinary perspective provided by her Ph.D. Committee (Professors Ali Mosleh, Cheri Ostroff, Marvin Roush, Mohammad Modarres, Paul Tesluk, and William Wulf) and her mentor (Prof. Anita Jones). The thesis was recognized by the Zonta International Amelia Earhart Award.
"My experience has inspired me to become an academic and to motivate students."
During her post-doc with Professor Modarres, she focused on incorporating underlying physical failure mechanisms (e.g., fatigue and wear) into PRA and studying their interaction and impact on modeling dependent failures, specifically Common Cause Failures (CCFs).
After completing her post-doc, Mohaghegh established Soteria Consultants, a risk management consulting company. She is the author of the book Socio-Technical Risk Analysis and over twenty journal and conference papers on risk analysis. She has a B.Sc. in Mechanical Engineering from Sharif University of Technology in Tehran.
"My experience has inspired me to become an academic and to motivate students as I have been motivated by outstanding professors, mentors, and colleagues from many institutions," Mohaghegh said. She looks forward to working with the faculty and students at the University of Illinois, and continuing her collaboration with the Reliability Engineering program at UMD.
For more about Mohaghegh, visit the University of Illinois at Urbana-Champaign website.
Published December 18, 2012