Pecht Co-Authors Book on Reliability Engineering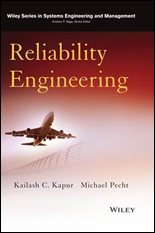 Mechanical Engineering George E. Dieter Professor Michael Pecht, with co-author Kailash Kapur, recently published a new book titled Reliability Engineering, part of the Wiley Series in Systems Engineering and Management.
Reliability engineering is a sophisticated interdisciplinary field that studies dependability in the lifecycle management of a product, and engineers must be able to analyze a product and assess which parts of the system might be prone to failure. The design and assessment of system parts to ensure safety and reliability is integral to the construction of products for public use. Reliability engineering requires a broad range of knowledge, not only in engineering, but also in physics, chemistry, biology and more.
According to the book's description, Reliability Engineering presents "an integrated approach for the design, engineering, and management of reliability activities throughout the life cycle of a product. This book is for those who are interested in gaining fundamental knowledge of the practical aspects of reliability to design, manufacture, and implement reliability tests to ensure product reliability."
Pecht holds an M.S. in Electrical Engineering and a M.S. and Ph.D. in Engineering Mechanics from the University of Wisconsin at Madison. He is the founder of the Center for Advanced Life Cycle Engineering (CALCE) at the University of Maryland, and the center is recognized as a driving force behind the development and implementation of physics-of-failure (PoF) approaches to reliability, as well as a world leader in accelerated testing, electronic parts selection and management and supply-chain management. He has written more than twenty books on electronic products development, use and supply chain management and over 400 technical articles.
Kapur is a Professor of Industrial & Systems Engineering at the University of Washington where he was also the Director from 1993 to 1999.
For more information on Pecht and his research, visit his faculty webpage.
Published June 2, 2014