Ashwani Gupta Awarded 2010 ASME Holley Medal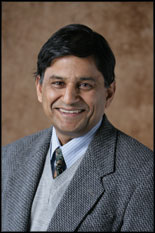 The Department of Mechanical Engineering is pleased to announce that Distinguished University Professor of Mechanical Engineering
Ashwani K. Gupta
was awarded the 2010 American Society of Mechanical Engineers (ASME) Holley Medal at the International Mechanical Engineering Congress and Exposition, held in Vancouver, British Columbia in November. Gupta's work in combustion, swirl flows, fuel reforming and clean energy conversion have been instrumental in structuring modern approaches to the use of fossil and alternative energy and was the driving force behind his selection as winner of the Medal. Established in 1924 to honor ASME charter member and founding meeting chair Alexander Lyman Holley, the Holley Medal was awarded to Gupta in recognition of his efforts in swirl flow science and engineering.
Gupta's contributions to the basic and applied understanding of swirl flows—the use of swirl in complex flows to determine the existence of pollutants and identify lean combustion methods in power and propulsion systems—were first documented in his 1984 text Swirl Flows. Since the publishing of that seminal volume, Gupta's approach has provided methods for the efficient and cleaner use of fossil and alternative energy in a range of power and propulsion based systems, including furnaces, gas turbine engines and boilers.
Gupta has shared his knowledge on swirl flows and combustion with the Clark School's mechanical engineering students since 1983. He was appointed a Distinguished University Professor in January 2008 and is the founder and director of the Combustion Laboratory. Prior to joining the ME faculty, Gupta, formerly an engineer with International Combustion Ltd. UK, independent research worker and research fellow at the Sheffield University UK, served as a member of research staff at the MIT Energy Laboratory and in the Department of Chemical Engineering, followed by a 10-year tenure as a consultant for the Japanese Ministry of International Trade and Industry.
A Fellow of ASME, AIAA, SAE and the UK Institute of Energy, Gupta's extensive professional and academic experience have led to a assortment of impressive awards, including ASME's George Westinghouse Gold Medal (1998), James Harry Potter Gold Medal (2003), James N. Landis Medal (2004), and their Worcester Reed Warner Medal (2008). Additionally, Gupta has received awards from the University Maryland and the AIAA for his innovative research, including the University of Maryland's President Kirwan Research Award (2003) and College of Engineering Research Award (2006), and the AIAA's Energy Systems Award (1990) and the AIAA Propellants and Combustion Award (1999). He was awarded higher doctorate degree, D.Sc, from the University of Sheffield (UK) for his outstanding record of published high quality original research work and who has distinguished himself as an international authority in his research field.
To read more about Professor Gupta and his research devoted to the integration of fossil and alternative energy with combustion-based systems and technologies, please visit his faculty profile.
Published December 13, 2010