Alumna Duong to Speak at Commencement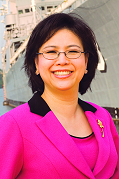 Anh Duong (B.S. '82, chemical engineering), director of the Borders and Maritime Security Division in the Department of Homeland Security's Science and Technology Directorate, will be the Clark School's winter 2010 commencement speaker.
Duong focuses on the technical aspects of U.S. sea/land/air border and cargo security challenges. From 2005 to 2008, she served as science advisor to the deputy chief of naval operations for information, plans and strategy, and to the director of the Naval Criminal Investigative Service. With a focus on the global war on terror, she directed many successful efforts to transform science and technology into anti-terrorism and force protection capabilities. One example is the rapid creation of mobile, modular forensic labs in Iraq and Afghanistan to help U.S. forces identify terrorists, which earned her the Superior Civilian Service Medal from the U.S. Navy. Before joining Department of Homeland Security, she spent 25 years working in naval science and technology and is a recognized expert in explosives.
Duong received the Clark School's 2009 Distinguished Engineering Alumna Award.
The student speaker at the Clark School commencement ceremony will be electrical engineering major John McGahagan.
The Clark School commencement ceremony will take place at 4 p.m. on Sunday, December 19, in the Cole Student Activities Building. The University Commencement ceremony will take place the night before at 7 p.m. at the Comcast Center.
Published December 7, 2010