Associate Professor Teng Li Wins E. Robert Kent Outstanding Teaching Award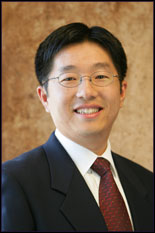 Associate Professor Teng Li won the 2012 E. Robert Kent Outstanding Teaching Award for Junior Faculty. The award has been given since 1986 to honor Clark School junior faculty members for excellence in teaching.

Li's teaching philosophy – to help students "develop an inquisitive mind in seeking knowledge" - drives the way he approaches the undergraduate and graduate courses he teaches such as ENES220 Mechanics of Materials, ENME382 Engineering Materials and Manufacture, and ENME670 Continuum Mechanics.
Li has been honored not only for inspiring and motivating his students in the classroom, but also for developing educational and research collaborations through iMechanica.org, a blog he co-founded that has become the largest online community of mechanics in the world.

"I've been experimenting with various ways to motivate students in my class, from as small as a silly putty toy demo, to as big as engaging them with online interactions with great minds across the world through iMechanica.org," Li said.

The hard work Li has put into teaching his students has paid off by not only winning this award, but through positive evaluations written by his students, who praise his way of making difficult subjects more interesting and engaging.

Mechanical engineering faculty Elisabeth Smela, Guangming Zhang, and George Harhalakis are past recipients of the award.
"I've been experimenting with various ways to motivate students in my class, from as small as a silly putty toy demo, to as big as engaging them with online interactions with great minds across the world through iMechanica.org,"
Published January 2, 2013