Gupta Awarded ASME Soichiro Honda Medal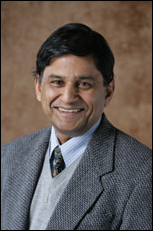 Department of Mechanical Engineering Distinguished University Professor Ashwani Gupta has been named the 2018 recipient of the American Society of Mechanical Engineers (ASME) Soichiro Honda Medal. The award recognizes an individual for an outstanding achievement or a series of significant engineering contributions in developing improvements in the field of personal transportation. It is named in recognition of Soichiro Honda's exemplary achievements in the field of personal transportation.
Gupta was cited for his "innovative contributions to the fundamental understanding of cycle-by-cycle variation, heat release rate determination and regenerative operation of internal combustion engines, which have helped to develop smoother operation at increased efficiency and performance; and for sustained educational efforts that have produced a talented workforce."
In 2016, Gupta was named an ASME Honorary Member, the highest level of society membership offered by ASME. He has been an ASME Fellow since 2000.
Over the course of Gupta's career, he has authored over 750 technical papers, three books, 12 edited books and 12 book chapters. In 2016, Gupta was elected to Fellowship of the Royal Aeronautical Society (RAeS), UK, the highest professional recognition bestowed by the RAeS. He also received the Golden Elephant Award from Thailand's Surindra Rajabhat University in recognition of his scientific achievements and collaborative efforts with their university.
He is currently a fellow of the American Institute of Aeronautics and Astronautics (AIAA), American Association for the Advancement of Science (AAAS), American Society of Mechanical Engineers (ASME) and the Society of Automotive Engineers (SAE).
Gupta will receive this award during the 2018 ASME Mechanical Engineering Congress & Exposition to be held November 9-15, 2018 in Pittsburgh, Pa.
Published April 25, 2018