Byeng Youn Receives NRC Young Faculty Development Grant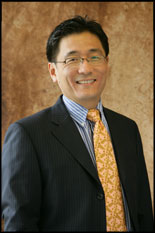 Assistant Professor of Mechanical Engineering
Byeng Dong Youn
(ME/RE/NE) is the 2009 recipient of a Nuclear Regulatory Commission (NRC) Young Faculty Development Grant. Assistant Professor
John Cumings
of the Department of Materials Science and Engineering is the Co-recipient of the award.
With his share of the grant, Youn plans to investigate the development of sensor-based prognostics modules (life, reliability, and loading) for nuclear systems and thus enable damage prognostics and maintenance platform to proactively manage risk in nuclear reactor systems. These findings will be then cohesively integrated into a reactor material damage analysis platform to be developed by Professor Cumings. The results of which have the potential to establish a new paradigm of life and reliability prognostics for nuclear system maintenance.
Youn hopes that the outcomes of the faculty development grant will, "Help to build our signature research of damage prognostics and maintenance for our nuclear and reliability programs, and to develop a new [graduate] course, System Health Monitoring and Prognostics."
Youn received his Ph.D. from the University of Iowa in 2001. His current research includes risk-based design, prognostics, stochastic defect mechanics, and bio-inspired design, which has led to several notable awards including the ISSMO/Springer Prize for a Young Scientist (2004) and the ASME DETC Black & Decker Best Paper Award (2001). This fall, Youn is teaching the senior capstone course, ENME472: Integrated Product and Process Development along with Assistant Professor Santiago Solares.
For more information about Professor Youn and his research, please visit his research website.
Published October 27, 2009