Challenges and Opportunities: Student Internships During 2020
For many University of Maryland (UMD) engineering students, 2020 meant drastic changes to—or even the loss of—summer internships, but opportunities are still out there, even if they looked a little different this year.
Tapping into the Terp Network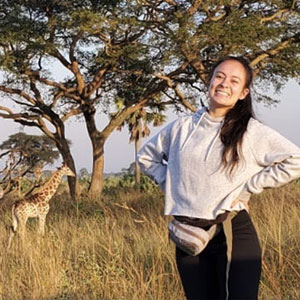 For senior Nina Horne, what was supposed to be a ten-week in-person internship with General Electric (GE) Aviation became a four-week online crash course covering everything from company culture and leadership to engine engineering and the supply chain.
"The company worked hard to give us a useful internship in a format that [GE Aviation] had never done before," Horne said. "They placed a lot of emphasis on leadership principles and the Lean process and mindset, and all the different ways that I can apply those ideas. It reminded me to apply those concepts to my own projects."
As an active member of UMD's Engineers Without Borders, these skills are directly transferrable for Horne, who has served as project leader for electrical work in Uganda, and previously traveled to Nicaragua to work on clean water system improvements with the group.
In addition, a UMD connection helped her gain access to individuals across the GE organization to gain insights into other possible opportunities. UMD alumnus and Lead Specialist of Operations at Unison (GE Aviation) Sajjad Husain (aerospace engineering '06), participates in a mentorship program at GE helping to connect interns with the organization.
"I'm really interested in the medical applications of engineering like medical devices and renewable energy, and Sajjad helped me have access to talk to almost anyone I was interested in talking with, people in healthcare, renewables," Horne said. "It was nice to talk to so many different people to figure out what [opportunities] are available in a large company like GE."
Horne's advice to other prospective interns is to leverage those UMD connections—there's a lot of Terps out there—as well as other members of their network to see how they can help students make connections to companies and opportunities.
Every Internship is an Opportunity
For senior Thomas Greenage, a successful string of product development internships from Anheuser-Busch to Stanley Black & Decker helped prepare him for his experience at Ford Motor Company this summer.
While Greenage was supposed to be working in the manufacturing setting for an exterior body product developing team, his role pivoted to remotely managing supplier relationships. "There's dozens of suppliers that provide exterior body parts for Ford," Greenage explained. "We work with them on the design, and they get them over to Ford where we assemble them on the vehicle, test them, then work back and forth to make tweaks and adjustments."
If he had been on the ground in Michigan, Greenage would have been working face-to-face with suppliers as well as seeing the vehicles coming into the manufacturing facility, and possibly working with the engineers to learn about the testing process first hand. Instead, Greenage helped manage the process via online meetings and over the phone.
"A huge plus of being online was being able to instantaneously reach out to anyone working and ask them questions, since they were probably at their laptops," Greenage said. In meetings with clients, "Since it's all virtual, [the clients] were treating me as if I was a normal product development engineer. Being able to represent Ford, and being treated like another full-time employee was definitely rare to encounter in an internship."
Looking ahead, Greenage is interested in exploring the whys behind product development beyond the obvious. "I always think it's fascinating to know more than just the engineering of the product itself. I want to work on designing things and working with not only fellow engineers, but the business people, the reps, the people who reach out to other people, and work with them all together to make these products."
In discussing the value of internships, Greenage said, "One of the most important things about internships is that they are not to see if the company wants you, it's to see if you want the company, especially in mechanical engineering where there are so many disciplines to jump into." He adds, "Internships are much less of a commitment, in terms of time, than trying to figure that out once you graduate college where you really need to stay in a job for a while."
According to Greenage, internships really helped narrow his focus. "After working at Anheuser-Busch, I realized I really didn't want to work in supply chain management. It was an interesting opportunity and experience, and it eliminated a whole path of engineering for me."
There's a lot of different avenues in mechanical engineering, if you pick a field for a summer and don't like, try something completely different next time. "And if you pick industries where you don't know if you'd exactly want to do it, but you apply and work there for a few months, you might surprise yourself."
And his advice for finding internships during the challenges of COVID-19: keep your options open, and send applications to companies that you might not be super passionate about. "They might lead to something you might be passionate for, or at least eliminate that thing to make your post-grad life easier."
Be Adaptable, Be Patient
Junior Sarah Noland spent the summer of 2020 working as a Global Manufacturing Intern as part of General Motors' EXCEL Program. Working with a team of two other interns, Noland helped transition static manufacturing checklists and tests into a dynamic online database for the body shop and assembly teams.
While Noland worked remotely, she said the online environment made reaching out to colleagues when she had questions feel more accessible, and she was able to work closely with her two fellow interns despite their geographical distance—one intern was in Texas, while the other was in Puerto Rico.
Despite missing in-person intern events, Noland said that GM worked to host regular virtual social events for interns and created opportunities for them to engage with GM leadership, including CEO Mary Barra. "We had the opportunity to engage and ask questions," Noland said. "We really got to have exposure to individuals in leadership that I don't think we would have had in person."
This year created a variety of challenges across the board, but Noland's advice to fellow interns is to be patient, and to be adaptable to day-to-day changes. She explained that while she faced her own set of difficulties, she realized that her colleagues and supervisors were also struggling with new challenges they had to navigate and manage. "We're all adjusting right now," Noland said.
Noland's success as a summer intern has translated to a part-time job this fall continuing to assist GM with the development and roll-out of their knowledge-sharing database.
Internships as Exploration, Find What Excites You
For junior Emily Cho, internships have been an integral part of not only her college journey, but as opportunities to explore what excites her as an engineer. This past summer, Cho's internship with ExxonMobil was her fifth, and like many other internships this year, hers took a bit of a detour.
Originally slated to work at the company's research and engineering headquarters supporting technical product development in a lab, the realities of COVID-19 shifted her internship to a customer-facing team supporting the user experience and user interface (UXUI) evaluation.
While this was a transition, Cho said the company integrated her directly into their team, and she had opportunities to support work in a way that she felt like a full-time employee. "As part of the UXUI work, I was working on a lot of calls with external clients and vendors as well as with internal team members," Cho explained, and added that her past intern experience really helped to prepare her for the role.
"Being able to be confident in speaking up, and knowing what's going on, and being prepared is something I grew over my five internships," she said. "I think that initiative and pro-activeness and speaking in meetings definitely helped."
While Cho has worked with several large organizations in the past three years—including Tesla, General Electric Aviation and the National Institute of Standards and Technology—she also believes that there are more pathways than just internships to help you develop skills as an engineer and discover what excites you.
"There's lots of different ways to get there," Cho said. "It's the motivation behind what you are doing that is really important, and being proactive in how exactly you're going to spend your time."
Taking her own advice this semester, Cho will be taking a break from internships and working with Professor Eleonora Tubaldi researching fluid/structure interactions.
"Even if you're in the coolest company, you have to really enjoy what you are doing personally," Cho said. "If you can, take a step back, and really ask yourself what you want to out of the internship, and what role or work really excites you. Don't just check a box because you feel like you need to check a box."
Published October 1, 2020