David Hymas wins CEEE best student consortium presentation award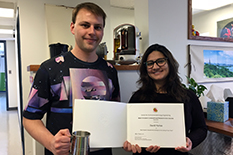 New Ph.D. student David Hymas won the spring consortium best student presentation award for his paper, 'Novel Polymer Composite Heat Exchanger for Dry Cooling of Power Plants' out of 20 student presentations at the event. Hymas was an undergraduate student assistant in the Small and Smart Thermal Systems Lab until he graduated in December 2016. He joined the AHXPI group as a Ph.D. student in January. He's been working on this project for over a year and has a patent pending. His advisor is Dr. Michael Ohadi.

He was presented with an engraved made-in-Maryland tankard to commemorate his accomplishment.
Previous Best Student Consortium Presentation Awards
September 2016
Ye Tao Wins Best Student Presentation Award for Fall CEEE Consortium Meeting for 'Electrochemical Compression'.

March 2016
Zhiwei Huang Wins Best Student Presentation Award for Spring Consortium Meeting for 'Next Generation Air-Ref HX Development'.

September 2015
Daniel Bacellar Wins Best Student Consortium Presentation Award for 'Miniaturized Air-to-Refrigerant Heat Exchangers/U.S. DOE MHX Project Updates'.

Published March 17, 2017