UMD Students Take Top Prize in National Deloitte Case Competition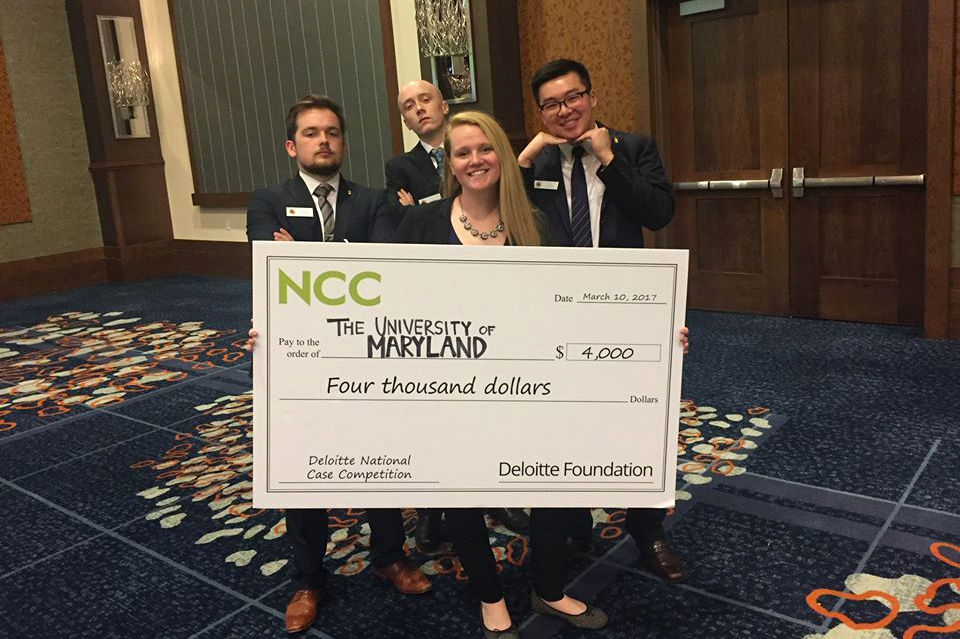 Three engineering students in a four-person University of Maryland team won first place and a $4,000 prize in the national Deloitte Consulting Undergraduate Case Study Competition, held in Westlake, Texas, from March 9–11, 2017.
Among 17 universities represented in the competition, the UMD team was challenged to develop a practical solution for an online clothing retailer to establish brick-and-mortar operations. Team solutions had to adhere to Deloitte's three-segment consulting method, which includes human capital, technology, and strategy and operations.
The event culminated with four finalist teams presenting onstage to an audience of more than 100 Deloitte employees and participating universities.
The UMD team included sophomores Conor Casey (aerospace engineering), Joshua Cocker (mechanical engineering), Brooke Nesselt (mechanical engineering), and Alexander Tran (finance and information systems). Clark School alumna Kimberly Berlic (B.S. '14, mechanical engineering), now a consultant with Deloitte, mentored the UMD team at the national competition.
"Kim told us that you have to learn to be comfortable being uncomfortable," said Nesselt. "You have to be confident in your intelligence and your abilities. This encompassed our entire experience in the competition."
The team also drew from lessons learned through the Entrepreneurship and Innovation Program (EIP) and Quality Enhancement Systems and Teams (QUEST) honors initiatives.
"We were the only team to have a wireframe prototype," said Nesselt. "We learned how to do this in QUEST, and it is emphasized in EIP."
But the biggest takeaway for the UMD team was the value of true teamwork. "A team isn't necessarily a sum of the individuals but how they work together as a cohesive unit," said Nesselt.
The event was the team's second trip to the national competition after winning the local competition two years straight.
"We were up against the best business schools in the country," said Casey. "We had to tell ourselves we can do this. We've been here before. It was a rewarding feeling once we did end up winning. It was a powerful learning experience."
Published March 17, 2017