Desai and Kaushik Receive STLE Fellowship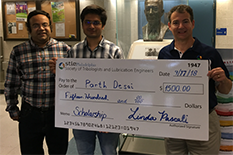 Graduate students Parth Rakesh Desai and Lovlesh Kaushik have been awarded the 2018 Society of Tribologists and Engineers (STLE) Fellowship for the Philadelphia section. Students selected for this fellowship are working in the broad area of tribology and lubrication in universities around the Philadelphia region.
Kaushik was recognized for his research on measuring the performance of lubricated contacts and selection of lubricants for gold-plated electrical contacts. Selecting the right lubricant for electrical contact applications is a challenge because of the effect that lubricants can have on electrical performance over the life of the contact. Kaushik's Master's thesis research aims to compare selected lubricants and determine whether certain physical or chemical properties of the lubricant are correlated with the observed performance of gold-plated electrical contacts. It involves identifying the effects of unaged and aged lubricants on the performance of contacts through the study of electrical contact resistance (ECR) as a function of normal contact force under stationary conditions, and the study of ECR and friction coefficient over fretting cycles under sliding conditions. The contacts under study are used in an electrical switch application. Kaushik, who is a student of Dr. Pecht and Dr. Azarian, is pursuing an M.S. degree in Mechanical Engineering.
Desai was awarded the fellowship for his contributions in employing atomistic simulations to probe the lubrication behavior of the interpenetrating polymer and polyelectrolyte molecules grafted on two opposing surfaces. His findings have led to multiple publications in journals like Soft Matter and Physical Review E. In addition to a financial reward, Desai has been invited to present his research later in Fall at one of the STLE meetings in Philadelphia. He is working with the Department of Mechanical Engineering Assistant Professor Siddhartha Das. Desai joined Prof. Das' group as an M.S. student in Fall 2015. For his Ph.D., Desai is developing simulation models to probe the dynamics of DNA plectoneme in collaboration with Dr. Keir Neuman, who is a scientist from the National Institute of Health. Last year, Professor Das' former Ph.D. student Mr. Shayandev Sinha (currently a postdoctoral researcher at Harvard University) received the same fellowship.
Published November 5, 2018