DeWALT Donates Tools, Equipment to Mechanical Engineering Department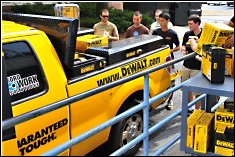 DeWALT donated $12,000 in tools to the Department of Mechanical Engineering in an impromptu ceremony held on July 20, 2011. A specially marked
DeWALT
truck arrived in the parking lot of Glenn Martin Hall on the morning of the 20th, where DeWALT representatives along with engineering students unloaded a sizable collection of tools that included power drills, power saws, portable tool kits, work benches, and much more. The tools were then moved to the Department's DeWALT Seminar Room where Stanley Black & Decker Vice-President Mr. Greg Moores presented the DeWALT tools to the Department of Mechanical Engineering, which was represented by the Department Chair Professor Bala Balachandran, the Associate Chair Professor Peter Sandborn, and the Director of Undergraduate Studies Professor David Bigio. Ms. Kristen Peterson, Communications Manager for Stanley Black & Decker, also attended this event. From the Department, Professors Shapour Azarm, George Dieter, Jeffrey Herrmann, and Teng Li were in attendance along with undergraduate and graduate students from the different engineering laboratories.
A longtime supporter of the Department, DeWALT recently sponsored a $140,000 renovation of ME's conference rooms with the goal of updating them with a more modern, technologically-friendly design. In May 2009, a grand opening ceremony was held and the conference rooms were christened the DeWALT Conference Suite.
ME is grateful to DeWALT, a subsidiary of Stanley Black & Decker, for their continued support. Thanks to the efforts of DeWALT and its representatives, ME is continuing to provide the tools and environment for future engineers to build tomorrow, today.
Published August 2, 2011