Dieter Establishes Capstone Design Enhancement Fund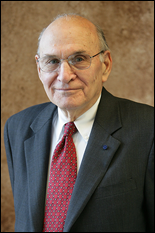 Department of Mechanical Engineering Professor Emeritus George E. Dieter, Jr. and his wife Nancy Dieter have established the Capstone Design Enhancement Fund through the University of Maryland College Park Foundation to support the department's unique student engineering design curriculum.
Every semester, mechanical engineering seniors enroll in the ENME 472 Integrated Product and Process Development course. This capstone design course enables students to synthesize the skills and knowledge they have developed during their undergraduate coursework, and during the semester, they work in collaborative teams to select, design, build, and present a working prototype for a unique product that solves an engineering problem.
The capstone design course not only challenges students' engineering know-how, but fosters creative thinking, collaboration and problem solving. The course's main project also offers students a taste of entrepreneurship by incorporating business strategies such as target market and consumer requirement analysis to create a more marketable prototype. The semester-long project culminates when students present their prototypes to faculty, staff, and special visitors during the semi-annual Design Day.
Dieter has been involved with teaching the mechanical engineering capstone design course since becoming the Dean of Engineering at the University of Maryland in 1977. At that time, Dieter said, there was very little curriculum devoted to the design process and fewer resources were available for students taking the capstone design program.
Since then, Dieter has literally written the book on the engineering design process: Engineering Design: A Materials and Processing Approach. The book, first published in 1983, is now in its fifth edition, and since the fourth edition, published in 2009, it has been co-authored with fellow Department of Mechanical Engineering Professor Linda C. Schmidt, one of the department's leaders in engineering design curriculum.
Many of the students in the capstone design course have never been involved with a hands-on building or engineering project, explained Dieter, and this course gives them not only an opportunity to develop their engineering skills, but gives them experience working in teams. The students also learn how to quickly find new information to apply to a problem and gain an introduction to the use of patent literature.
"They think more creatively in a focused way," said Dieter. "They [learn] to make decisions based on logic, rather than intuition. These skills apply to a wide variety of work experience, not just engineering."
Over the years, the capstone design course has developed a more structured approach, and student projects have become broader in scope and variety. Today, approximately 300 students participate in the capstone design course each year, and the diversity among student projects has increased each semester.
The most recent Design Day, held May 7, 2013, hosted 31 student teams demonstrating prototypes from an autonomous, gutter cleaning device and heated insoles that used piezoelectric technology, to a fully functional, mechanical system to chlorinate flowing water for drinking and a wind powered, portable generator.
The student projects coming out of the program are an impressive display of the engineering skills students have learned, but they also require a variety of resources such as reference materials, tools, testing equipment and software that stretches the program's existing resources.
"They require resources that are beyond that of other lab based courses," said Dieter, and this challenge is one of the reasons he has decided to create the Capstone Design Enhancement Fund.
The students' projects often require special software, testing facilities, small pieces of equipment, and print and reference materials that cannot easily be determined before the start of each semester. Dieter said that the goal of this fund is to make these kinds of resources more readily available to the students and provide support for resources in all design courses.
Dieter cannot stress enough the value of this curriculum, and its impact on students' experience with engineering. He has talked to many mechanical engineering alumni over the years, and even when the course was not as robust as it is now, graduates looked back on the experience as a highlight of their four years.
Published October 24, 2013