Mechanical Engineering Professor Emeritus Clifford L. Sayre, Jr. Passes at 88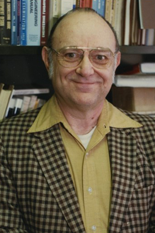 Retired Mechanical Engineering Professor Clifford L. Sayre, Jr. passed away on Thursday, January 14, 2016 due to kidney and heart failure as complications from Alzheimer's. The long-time resident of Silver Spring, Md. was a member of the University of Maryland faculty for more than 30 years.
Sayre, who received his Ph.D. in engineering from UMD in 1961, joined the faculty here as an assistant professor in 1955. During his time at Maryland, he pursued his passion for teaching and enhanced the curriculum of the Mechanical Engineering department. He was particularly interested in the process of design and was instrumental in establishing the Senior Level Design Projects course in Mechanical Engineering. He extended this focus on the hands-on approach to learning engineering by adapting these methods to create an engineering college-wide freshman-level project design course to introduce engineering students to the concepts of design.
In 1980, a Washington Post article featured Sayre and some of his student designed projects.
He had significant involvement in an engineering summer program for minority scholars and women to encourage them to enter and succeed in the field of engineering.
Sayre, left, with students. Year unknown.
In 1985, he authored an early book on computer-aided design; "Design and Graphics Using the Apple Computer – an Engineer's Guide."
During his career at Maryland, Sayre served as both the Associate Dean of Engineering (1976-79) and Acting Chairman in Mechanical Engineering (1979). In addition, he received numerous awards from industry and academic organizations. He received the first College of Engineering Outstanding Teaching Award in 1986, a Centennial Medal on the 100th Anniversary of UMD in 1994 and an A. James Clark School of Engineering Outstanding Commitment Award in 1998.
Despite retirement, Sayre remained active in supporting the department through generous donations to scholarships, The Keystone Program and Dean's fund that supported students in Mechanical Engineering and beyond.
Sayre earned his B.S. in mechanical engineering from Duke University and his M.S. in mechanical engineering from the Stevens Institute of Technology. In 1947, he was commissioned as an Ensign in the U.S. Navy and assigned to the USS Hobson from 1947 to 1949, serving as an assistant engineer and damage control officer. After promotion to First Lieutenant, he served as the minesweeping officer.
In addition to serving on the faculty at UMD, Sayre also worked on projects in hydrodynamics at the David Taylor Model Basin in Washington D.C. from 1956 through 1960.
Throughout his life, Cliff was a naval history and wargaming enthusiast. He was one of the first members of the Potomac Wargamers and was active in the Historic Miniatures Gaming Society, helping out at the early conventions and authoring occasional articles for various gaming magazines.
After retiring from UMD in 1987, Sayre was active in researching his family's genealogy, producing numerous volumes of family history, and he was active in the Montgomery County Genealogical and Historical Societies, as well as the Maryland Society of the Sons of the American Revolution. He lectured throughout Montgomery County at club meetings, senior centers and senior residences on both genealogy and his extensive travels, in particular his fascination with the Easter Islands.
Sayre was the beloved husband of the late Rose Morton Sayre; father of Clifford L. (Catherine) Sayre, III and Marie (David) Cole; grandfather of Philip and Kimberly Sayre; brother-in-law of Terry Morton.
Published April 8, 2016