Dr. Cukier Promoted to Associate Professor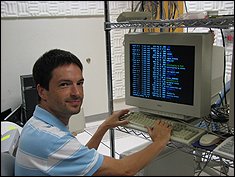 "It's a wonderful opportunity to conduct this kind of research and to collaborate with various departments and research across the university"
University of Maryland President C.D. "Dan" Mote recently announced the promotion of
Dr. Michel Cukier
(ME) to the position of Associate Professor with tenure, effective July 1, 2008.
Dr. Cukier specializes in research on the quantification of computer security, including fault tolerance, intrusion tolerance, dependability and security evaluation, distributed systems and software testing. Prior to his appointment at this university in November, 2001, Dr. Cukier worked as a researcher at the University of Illinois.
"It's a wonderful opportunity to conduct this kind of research and to collaborate with various departments and research across the university," Dr. Cukier said in describing his work in the ME, electrical engineering and computer science departments. "I have also collaborated with the Office of Information Technology, where we have a unique collaboration getting all the data collected by the university. Students working with me get real experience in a real environment working on data from 40,000 computers."
Dr. Cukier currently leads a research project titled "Probabilistic Evaluation of Computer Security based on Experimental Data." He said the project focuses on using data on the weaknesses and vulnerability of computers and data on attackers of those machines to assess the security of overall systems of computers.
"For vulnerability, we have tools we have developed to check the vulnerabilities on Windows and Unix desktops," Dr. Cukier said. "For attackers, we have developed about 75 honeypots which are computers dedicated to being attacked by leaving vulnerabilities open, or different types of honey."
Dr. Cukier also co-leads a Research Experience for Undergraduates site program focused on evaluation of computer safety. He runs the program in conjunction with Women in Engineering, and it focuses on providing female students with exposure to computer security related research projects.
Dr. Cukier has published and submitted dozens of journal and conference publications as well as technical reports. He won the Best Paper Award at the Pacific Rim International Symposium on Dependable Computing in 2002 and the National Science Foundation Faculty Early Career Development Award in 2003.
As a professor at Maryland, Dr. Cukier has helped make changes to ENRE 648J: Informational Security and ENRE 681: Quality Assurance Software, and co-developed ENRE 489E: Software Reliability Testing, which the university offered for the first time in the Spring 2002 semester.
Dr. Cukier received a physics engineering degree in 1991 from the Free University of Brussels, Belgium, where he taught from 1991 to 1992. He received his Ph.D. in engineering from the National Polytechnic Institute of Toulouse (France) in 1996. He belongs to both the Institute Electrical and Electronics Engineers (IEEE) and the IEEE Computer Society.
For more information on Dr. Cukier, visit his website.
Published June 12, 2008