Student Awards Ceremony a Success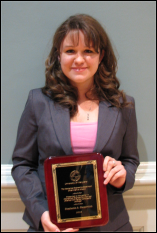 "I had a good time and I didn't even win anything."
The Mechanical Engineering department came together last month to recognize student recipients of awards, scholarships and fellowships from the past year. The awards reception grew out of a smaller annual event held in the past by Professor Mohammed Modarres for his reliability engineering students.
"It was about the students, and from talking to the students, it seemed it went well," said graduate studies coordinator Fitz Walker, who helped put the program together this year. "I think it's important for students to be recognized in front of their peers like this."
Students and faculty gathered at Riggs Alumni Center for a catered luncheon. Award recipients received a round of applause as professors and students alike recognized them for their achievements.
Felicia Stephenson, the coordinator of faculty affairs, played a major role in organizing the ceremony. Stephenson, who took on the task of meshing department, Clark School and university awards all into one event, proclaimed the luncheon a success for the department's best and brightest.
"I had a good time and I didn't even win anything," exclaimed one student.
For the complete list of student award winners, click on this link: http://www.enme.umd.edu/awards/awards08.html.
Published June 9, 2008