Elviz George Receives IMAPS 2014 Steve Adamson Award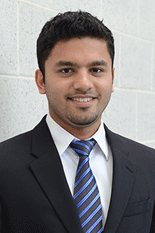 Mechanical Engineering graduate student Elviz George was selected to receive the International Microelectronics Assembly and Packaging Society's (IMAPS) 2014 Steve Adamson Award. The Steve Adamson Student Recognition Award honors an active student member's participation in IMAPS events, chapters and programs, in addition to demonstrating significant technical research and/or service contributions to IMAPS and the microelectronics industry.
George is a current Ph.D. candidate and works as a research assistant in Maryland's Center for Advanced Life Cycle Engineering (CALCE). For his thesis, George is researching the non-linear damage estimation in SnAgCu solder interconnects under sequential loading conditions and developing a non-linear damage model for solders that takes into account all the limitations of Miner's rule of linear damage accumulation. George has published his research in five journal publications and ten conference proceedings, and he has also co-authored a book chapter on electronics reliability. Beyond his thesis research, George has worked on a number of additional projects, such as: the iNEMI "Lead-free alternative alloys" project to develop next generation solders, an accelerated test methodology to grow tin whiskers on the connector pins of an automotive engine control unit (ECU) and identifying root causes of failure in implantable cochlear devices.
In addition to his research activities, George has also been an integral part of rebooting the University of Maryland's IMAP student chapter. With the support of faculty advisor Diganta Das, George restarted the student chapter in 2011, recruited students to join and has served as president from March 2011 to March 2014. He led the chapter in participating in a number of regional IMAPS poster competitions and has worked to arrange for speakers, secure funding and coordinate the IMAPS team.
George has also been actively involved in the Chesapeake Chapter of IMAPS, regularly volunteering at events jumping in wherever his assistance is needed. He has worked to increase student outreach both within the Clark School of Engineering, but he has also engaged students from other schools on campus. Along with the UMD IMAPS team, George produced a booth and exhibited research at IMAPS 2012 conference. There the team earned first place in the booth competition, and George earned an 'Outstanding Paper' award for his paper presentation, "Effect of Extended Dwell Time on Thermal Fatigue Life of Ceramic Chip Resistors." At IMAPS 2013, he received 'Outstanding Paper' and 'Best of Session Paper' awards for his paper presentation, "Thermal Cycling Reliability of Alternative Low-Silver Tin-based Solders."
Das, Chesapeake Chapter President Erica Folk and Chesapeake Chapter Vice President Dr. Lauren Boteler nominated George for the Steve Adamson Award. As part of the nomination, they stated, "Under [George's] able leadership, the UMD IMAPS student chapter has become one of the most active IMAPS student chapters."
The International Microelectronics and Packaging Society's roots stretch over forty years with the formation of the International Society for Hybrid Microelectronics (ISHM) in 1967. In 1997 ISHM merged with the International Electronic Packaging Society (IEPS) to form IMAPS and has since become the largest society dedicated to the advancement of microelectronics and electronic packaging.
The IMAPS student chapter at the University of Maryland is composed of several graduate students whose focus is in the field of microelectronics and electronics packaging. Many members are involved in microelectronics reliability through their graduate research at the Center for Advanced Life Cycle Engineering (CALCE).
Visit the UMD IMAPS Student Chapter webpage to learn more about the program and find out how you can get involved.
Published September 30, 2014