Five Mechanical Engineering Graduate Students Named Future Faculty Fellows
Five graduate students from the Department of Mechanical Engineering have been named to the 2018 A. James Clark School of Engineering Future Faculty cohort. The Future Faculty program selects current doctoral candidates and prepares them for long-term career success in the academic world as educators and researchers.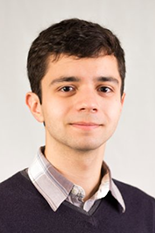 Martin Erinin is a Ph.D. student studying with advisor Professor James Duncan in the Hydrodynamics Laboratory. His research focuses on the development of particle sizing measurement techniques and applying these techniques to various multiphase flow phenomena. Specifically, his research focuses on the investigation of spray generated by breaking water waves, which is an important process in the transfer of energy between the oceans and the atmosphere, and air entertainment by a turbulent boundary layer, which has applications in the performance and stealth of naval ships.
Zahra Ghasemi is a third-year Ph.D. candidate in the Department of Mechanical Engineering under the direction of Assistant Professor Jin-Oh Hahn in the Laboratory for Control and Information Systems. I had my bachelor and master in mechanical engineering and a second bachelor in industrial engineering from the Amirkabir University of Technology, Iran. Her research involves developing innovative, convenient and affordable methods to increase health monitoring. Ghasemi's main focus is on developing a novel mathematical model of arterial tree and system identification for cardiovascular health monitoring based on the multiple sensor fusion, which has the potential to enable non-invasive monitoring via low-cost healthcare sensors.
Hee-Sup Shin is a Ph.D. candidate studying with advisor Associate Professor Sarah Bergbreiter in the Micro Robotics Laboratory. His research has focused on improving soft capacitive strain sensors in terms of sensitivity, hysteresis, and bandwidth and developing a sensing skin embedded with the soft strain sensors for aerial robots. Regarding soft transducers, capacitive sensing is often chosen to minimize hysteresis seen in piezoresistive sensors as well as more suitable for detecting mechanical stimuli having a high frequency. In addition, he has been developing interdigitated capacitor-based (IDC) soft strain senors that are advantageous to increasing sensitivity while decreasing the size to measure highly localized strains on a surface.
Guanjin Wang is a third year Ph.D. candidate under the guidance of Chair and Minta Martin Professor Balakumar Balachandran and Associate Professor Amir Riaz. Her research focuses on modeling and analysis of granular systems, specifically multi-scale and multi-phase problems occurred during dynamic interactions. In particular, she extends novel mesh-free simulation tools to the field of terra mechanics, which well captures the complex behavior of granular soils under locomotion across phases and topology. These findings provide a step forward in the quest for a unified theory and computational framework of granular system. Of the Future Faculty Program, Wang said "I believe I will have many welcome opportunities to find a future vision and get prepared to direct my own research in a productive manner, teach effectively and efficiently, secure grants, and attract high-quality scientists to work with me."
Yanbin Wang is a Ph.D. candidate studying under Assistant Professor Siddhartha Das. His research focuses on uncovering the fundamentals of interactions of water and structurally defective graphene (SDG). Interaction of such SDG [e.g., holey graphene (HG) or graphene with grain boundaries (GWGB)] water is crucial for a large number of applications ranging from water desalination to enhanced heat transfer; despite that, several relevant fundamental issues remain unexplored. Wang believes his thesis will fill this void – it will respond to questions such as (a) How edge functionalization of HG and energy barrier of the GWGB dictate the force-driven and no-force-driven dynamics of water drop, (b) How these dynamics get affected by the presence of salt ions in the water drop, and (c) How these dynamics eventually dictate the desalination and water permeation ability of holey graphene and water-splitting and oil-water separation capabilities of graphene with grain boundaries.
Program members take three one-credit training seminars, a teaching practicum and a research mentoring practicum. The three main objectives are to increase the number of qualified future teachers that will graduate from the Clark School, prepare selected doctoral students to achieve career-long success in the academic world as both teachers and researchers, and to place selected students in leading institutions and continue to partner with the University of Maryland.
Published January 24, 2018