Gov. O'Malley is Keynote at "State of Tech in MD" Event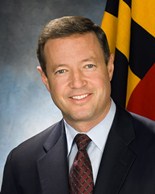 As a follow-up to the successful "State of Tech of the I-270 Corridor" event last year, the Clark School of Engineering has again partnered with Bisnow Media to explore the "State of Tech in Maryland," an event that will feature Governor Martin O'Malley as keynote speaker along with distinguished panelists to discuss the state and future of technology development and its impact on Maryland's economy. The event will include a panel of technology leaders to discuss "how do the top Maryland tech players envision the future of technology development statewide, where will future development occur, where will companies focus their development & strategic efforts, and how will federal and state government assist the sector's growth?" The event is a part of Bisnow Media's "Breakfast & Schmooze" event series, which brings leaders in a variety of industries together to discuss current topics.
Darryll Pines, dean of the A. James Clark School of Engineering; Mark Bisnow, CEO of Bisnow Media; Wallach Loh, UM president, will provide introductory remarks; panelists will include Bill Bertrand of MedImmune; Phillip Bond, CEO of TechAmerica, and other leaders in the regional technology community including technologists, venture capitalists and business development professionals.
The event will be held in the morning of September 13 the University of Maryland Riggs Alumni Center. For more information on the event and registration please go to State of Tech in MD. Registration is required.
Published August 25, 2011